Experience the Sea, Long Live Freedom!
Irina Echarry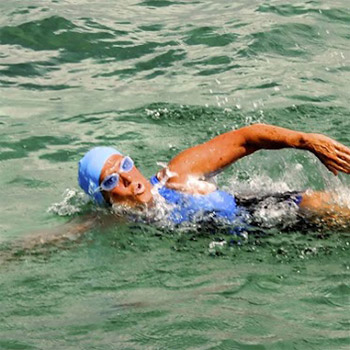 HAVANA TIMES — When I think of the Florida Straits, what comes to mind are rafters and the sharks that circle them – occasionally swallowing one. I know a few daring souls who set off aboard their own rickety rafts and I've heard their stories about overcoming their greatest fear: falling into the sea.
Nonetheless, facing the terror of the ocean and its creatures, that vastness and darkness that can devour any one of us, a 62-year-old US citizen is at this very moment swimming her way from Cuba to the Florida coast.
Nobody has achieved this feat before; she and another woman tried in vain in the past. I recognize that it takes physical and mental prowess, but in the deepest part of me it doesn't make sense.
I don't see why someone would spend more than 60 hours (what's expected) to swim nonstop in a strait full of sea creatures, huge waves and dangerous currents. Why? Why break a record? Is it to promote good relations between Cuba and the United States?
I look around at other women that same age spending their time watching TV. I see their bodies destroyed by old age and physical inactivity, and I compare them to this proud swimmer. Of course it makes a difference, but is it necessary to risk such fatigue and so many resources to keep fit?
Still, looked at from a certain point, I think it does make sense. I think something can be benefited from what the Diana Nyad represents. God cares for the squalid.
Before modern times and development with sophisticated equipment, it seems that traveling was — paradoxically — much easier than it is now.
Maybe not long distances, but the indigenous ethnic communities like the Caribs (and other early inhabitants of this area) traveled by canoe across the sea that bears their name – and without exit permits.
Without going so far back in time, less than a century ago it wasn't so difficult to take a little trip on a steam ship to other Caribbean islands or to the mainland. All it took was the willingness to do some hard work during the voyage.
Now, however, Cubans here are without resources and are like prisoners. This is because, besides the bureaucracy, a ticket costs a fortune for us.
On top of that is the danger that "the skies would become overly congested if we all traveled by plane," as one Cuban senior government official noted a while back.
So although it may not have been her idea, we should take advantage of Diana's journey to remember that the sea is a clear path of communication for people, not just for supertankers or boats loaded with goods.
It is a bridge used since days gone by for human exchanges of all kinds, and especially to circumvent those coercive provisions emanating from the centers of power, such as those of colonial Spain and other systems I know.