Irina Echarry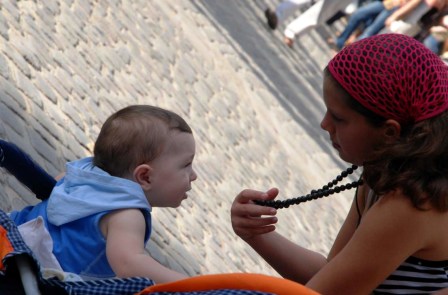 It turns out that more than ever before I have the desire to become a mother.   "It's natural," lots of people will tell me; but the problem lies in what's natural.  On this mysterious island it can be like the surprises pulled out of a magician's hat – and not all of them are white and fly with wings.
The idea is spinning around in my mind and spirit.  At times I see myself as being beautiful with my immense belly that I can barely hold up, while shrouded in joy.
But I then immediately go into panic.  I wonder: Would I be able to educate the child about love?   Would I become a simple parrot of old educational formulas that prevent a youngster from creating their own identity?   Would I be a good mother? – though I'm not even sure what that means.
The truth is that the dilemma is serious.  In addition to the questions that I constantly pose myself and which force me to rethink the idea, reality smacks me in the face: We're returning to another crisis as deep as in the '90s.
Since I know the whole world is going from bad to worse, isn't it an act of selfishness to have a baby under these conditions of material and emotional crisis across the country?   Will I be brave enough to not give into the temptation to accept anything for "the good of my child"?   Will I continue loving the same things and the same people I'm crazy about today, or will that other love displace everything else?
Most people I know stop living their own lives in order to live those of their children.  I don't want that.  I ask myself if I will have enough willpower to face the absurdities experienced in hospitals, schools and neighborhoods.
I wonder if I'll succeed at being a mother without sadness, one who doesn't carry contentious baggage that weighs on the innocent being I bring into the world, one without bitterness, someone who doesn't sow frustration.  I'm afraid of not knowing even the most elementary things to guide someone toward a better way of living.
I'm tremendously afraid, but I also want to hear the laugh of a being so close to me.