Negligence: A Curable Evil
Irina Echarry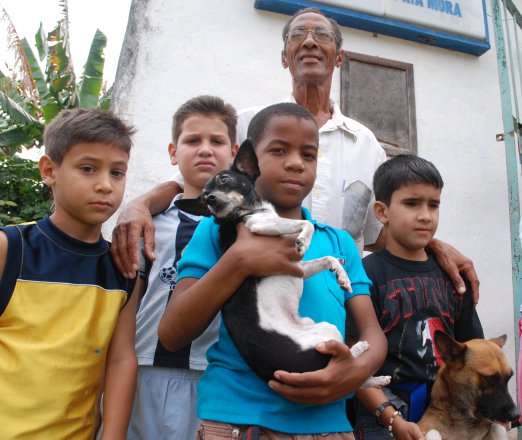 When I first began to write for this website, I published a diary entry about stray dogs.  The problem of the abandonment of our loyal companions continues – so a question tormented me: loyal to whom?
Their one-time owners have left the city full of dogs (many of them sick) that now live in the streets.
To be honest, I believed negligence was an incurable evil rooted deep inside many human beings.  But a recent experience has given me a hope that once again lights up my days.
Nora Garcia is head of the Cuban Association for the Protection of Animals and Plants (ANIPLANT), an organization founded in 1987 by such recognized figures as poetry laureate Jose Zacarias Tallet and ballet director Alicia Alonso, among others.
She was contacted by a group of young people for her advice on how we could address the difficult task of aiding society's most vulnerable – in this case animals (though there's also the prospect of creating a plant nursery).
I won't spend too much time on Nora, though someday I'll interview her so the readers of Havana Times will learn of her zeal and dedication.  I'll only say she is a persistent, dynamic and sensitive woman.
Thanks to her, we organized a "day against parasites" for cats and dogs in an outlying neighborhood south of the capital.
Though we put up posters on the street publicizing the activity, uncertainty made us its prey at one moment; we found ourselves asking "what if nobody showed up?"
On Saturday, January 30, the appointed starting time was 10:00 a.m., but by 9:30 in the morning some 30 canines had already been vaccinated.
In all, almost 200 cats and dogs patiently passed through the line —some braver than others— to be attended by the veterinarian, Felipe, a true Good Samaritan.
Through that line passed everyone from fervent pet lovers to a few people who organized dog fights.  The pets were of all breeds and every size, with some of these canines more obedient than others.
But the best of that day was seeing how area residents turned out with their pets and then went searching for other dogs that didn't have owners – those that lived under corner kiosks, around schools or in building entrances.
Boys, girls, grown-ups…everyone got involved in the task of promoting a better existence for those animals.
Some give them food, others let them sleep in their garages, and many others felt the delight of seeing their neighbors doing something good.
Perhaps love is contagious… Let's hope several more efforts take place to promote this type of response by people in the city.
More associations, initiatives and individuals are needed to guide and support those who have a desire to help animals but don't know how to or don't have the means individually.
Click on the thumbnails below to view all the images included in this post