Post-Tornado Life in Havana
Irina Echarry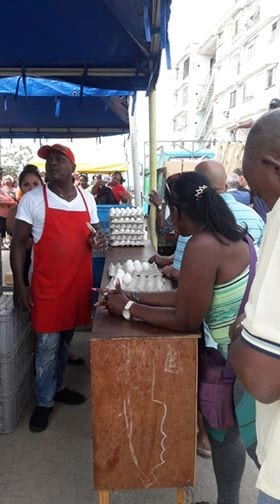 HAVANA TIMES – Alfredo couldn't believe he's drunk so little water over these past few days. He normally drinks over two liters per day, but he's had to get by with just a few glasses. After the tornado of January 27th, everything is in shortage except for misfortune; donations haven't come knocking on his door and the State only sent officials to take note of damages to his home; coldly noting single words: windows, door, water tanks, etc.
Some protested because nearly all of the donations were sent to certain places in Regla, such as the La Embajada neighborhood, where people were left out on the street and at God's mercy. However, they weren't the only ones in need.
The numbers are blood-chilling, over 5000 homes were damaged, 505 completely collapsed and 757 partially collapsed in the five municipalities which the tornado swept through. Roofs, walls, electricity cables, etc. were also damaged.
Brigades of linesmen, from the telephone company and communal employees, as well as volunteers, have been working around the clock. Continuously. Streets are cleaner and essential services have been reestablished for nearly every family.
Alfredo remembers that he was walking down Regla Avenue one morning and he saw a truck full of water bottles; he went up to it and asked for one. I'm sorry, this is for the people affected, he was told. And, he told them about his situation, but the girl answered: ah I'm sorry, I really am, but they've been counted. There was nothing to understand, he left.
Luckily, this situation changed after a few days; it didn't change a great deal, but people started knocking on his door with donations. Water at last!, food, clothes and even prayers. It's unbelievable that the Government didn't prioritize drinking water in every affected area.
You can buy eggs, yes, for 27 pesos per carton; but what about all those people who lost everything, even their wallet? Bread is also being sold for less than 2 pesos, or bread with something for five. Some people prefer to cook at home, emergency food, but homemade, taking the edge off feeling completely helpless.
The line for eggs is always out in the scorching sun, in front of the bodega ration's store. Everyone pretty much knows everyone, and they use this time to have a laugh about the situation.
They joke about Jose who didn't let go of his plate of food even in the middle of the tornado, the opposite in fact, he ran to the bathroom and carried on eating; then he came out and covered the pot of spaghetti again after the wind blew the lid off.
And, they joke about an air-conditioning unit that fell on somebody else's balcony; or the avocado tree that split a house in two, one half of the family on one side and the rest on the other and they didn't stop talking amongst themselves, shouting to be heard.
They talk about how Juanito was blown out of the kiosk and fell on top of Marti's bust, he's seriously injured and in the hospital but nothing serious happened to Marti, on the contrary, he's whiter now, the rain cleaned him up.
They also talk about egg shortages, how chickens always get stressed out by weather events and now the complete opposite has happened, "stress has made them lay eggs", suddenly eggs appeared after being missing for weeks. Were they being kept in a warehouse? Humor helps them to exorcize their demons, sadness.
The store assistant thinks he's all-powerful. There isn't any science behind selling eggs, he takes his time selling for fun; the tragedy people have experienced isn't enough, they also have to put up with this.
Threat: look here, it's one box per person, but I'm going to sell you two, but the first time you lot get disorderly, I'm only giving out one. I pull out my cellphone and take a picture, suddenly a woman inside the kiosk laments that I am "filming these poor people, you don't do that."
I took a photo of you, of eggs being sold, I said. "Who are you? Why are you taking photos? These people don't deserve this, nobody knows what you are going to do with these photos," she says maliciously, encouraging others to speak up. But, people shout "you can take photos, even the Minister of Foreign Trade said it a while ago", "let her film, it's good. And, then upload it so everyone knows how we really live".
It's Alfredo's turn, but another man approaches, and he's allowed in front. But, why?, he asks. And the woman supervising the line becomes rude: "he is "hurt", I was told he has priority." Doubting, the woman begins to gesture wildly and doesn't stop talking:
"People take advantage of these tragedies to resell products, there's loads of people who have nothing, they don't even live here, and they pretend to be…"
"Mrs., please, we're all neighbors here. What are you talking about? We were all affected."
"But, he has an injury. He really is "hurt", not like some people here…"
"You don't know what we had to go through that night, Mrs."
In the line, people tell her that Alfredo does live there, that people in his house were even hospitalized. "But they aren't here, let him bring them here", the woman supervising says. A combination of insults and jeers bring that unpleasant exchange to an end. Alfredo buys his eggs and leaves thinking that not "looking" affected is almost a shame.
Everything will change for him in just a few hours. A relative sends him money from the US; friends help him to improvise a balcony door. Young people he knows and doesn't know, religious people and artists come to visit him. Electricity is hooked up in his building again, and therefore, water too.
Then, the Ministry of Construction gives him four windows to replace the ones he lost and an aluminium door for the room, he doesn't know how much he will have to pay, but he knows that a state-led brigade will install them… and so in the end, it's been a never-ending chain of support and solidarity.