'Una Noche' Gets One Night Stand in Cuba
Irina Echarry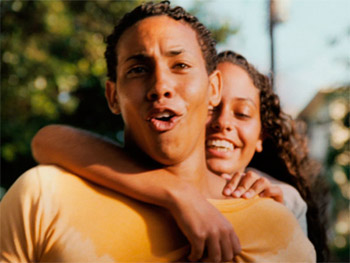 HAVANA TIMES — From the roof of a tall building, Raul drops an empty bottle of rum.
"You're gonna kill somebody down there," yells his friend Elio to him.
"Maybe I'll be doing them a favor," Raul replies.
In April, the news spread like wildfire. First among those who are privileged enough to have Internet access, and then by word of mouth: two 20-year-old Cuban actors were seeking asylum in the United States.
The youths were a couple of unknowns, and few people had ever heard about the film they starred in. What's more, after reading the summary of the movie, almost no one believed they or the film would ever be shown here on the island.
However, though barely noticeable, it seems that things have changed a little.
Last Saturday, September 8, the Riviera Cinema was packed with young people to see the film by British director Lucy Mulloy, in a one-night only showing.
In it, two friends — both tired of a present that doesn't satisfy them and feed up with not being able to make out the future — finally decide to leave the country. At the last minute, the sister of one of them joins them, with the three shoving off to sea in a makeshift raft.
That is the basic plot of Una Noche, though it could well be the personal life story of any young person here.
This is because any Cuban youth could be Raul (Daniel Arrechaga). He's poor and who works in a hotel kitchen where he's tired of having to endure humiliation to keep his job. After being accused of something he didn't do and becoming wanted by the police, he has no other choice but to leave.
Any young person could also be Elio (Javier Nunez Florian). Though he's in love with Raul, he has to repress his homophobic prejudices while at the same time dealing with a violent, macho father. Working in the same kitchen, Elio doesn't have many great aspirations either.
Then too, any youth could be like Lila (Anailin de la Rua de la Torre), Elio's sister, who always wears her school uniform though she's never seen in class or studying.
Mulloy captured the apathy and disenchantment experienced by most teenagers on the island, which is not reflected in Cuban telenovelas. Despite being foreign, she managed to avoid most of the stereotypes that mark Cuban movies by foreign and local directors.
What's most striking about the film is its sincerity – from the story itself to its performances.
With short precise scenes, without getting mired down in poverty (human and material) though this it revealed, it borrows on everyday conversations, without affectation, sometimes with those unintelligible conversations between teenagers, and photography that captures the Havana we all see but that some don't want to know.
The film holds the audience attentive, caught in suspense over the fate of the protagonists.
These same actors decided to take the story beyond the screen. When they came to the US in April to present the film, they requested "political asylum," not wishing to return to Cuba.
Different from the movie, they didn't need to take off paddling 90 miles across the Florida Strait and fighting with sharks. In their attempt, neither of them risked their life or was threatened with having to return to Cuban soil unwittingly.
Yet they are risking a fall into oblivion and being forgotten thanks to the country's cultural and press policies of banning. In fact, the press didn't list their names or indicate that an award was won by the two actors at the Tribeca Film Festival in New York City.