Benny More and Frank Sinatra Meet at Havana Concert
Irina Pino
HAVANA TIMES — Last Sunday, Cuban singer Augusto Enriquez shared the stage with the Canadian jazz band The Back Alley Big Band for a concert titled "Frank Sinatra Meets Benny More", held at Havana's Karl Marx Theater. The concert was part of the Les Voix Humaines festival, which has been underway in Havana since Sept. 25 and is to close on October 18.
Organized by composer, guitarist and conductor Leo Brower, the festival encompasses music, dance, art installations, photo exhibits and film screenings. Promoting the care of the environment, animal protection and world peace, its most commendable feat has been to bring "refined music" to the island, something people dearly need in these times of violence, war, selfishness, reggaeton and other weapons of mass destruction.
Renowned international artists such as Take Six and Brazilian countertenor Rodrigo Ferreira (accompanied by the French ancient music band Ensemble Desmarest) have come to Cuba, and other, no less important performers are expected to join in and leave us with shining memories, showing us that there's a broad range of music out there that we can enjoy in different ways, through listening, dancing or spiritual enrichment.
August Enriquez is a well-known Cuban composer and artist who started as a member of the band Moncada and later became a solo performer. He has performed at prestigious music festivals, such as the San Remo Festival, and for Rai television programs. He was catapulted to fame after being invited to perform at the 2002 Pavarotti and Friends concert, where Sting, Andrea Bocelli and James Brown sang. This was an unforgettable experience for a Cuban who was unknown at the time, as he said during an interview. Later, Enriquez put together a project with a jazz band, unearthing Cuban music rhythms from the 40s and 50s.
The artist spoke enthusiastically about his trip to Halifax, Canada, where he met the members of The Black Alley Band (who organize a campaign that sends restored musical instruments to Cuban art schools). They also offer elderly people music lessons, a kind of music therapy.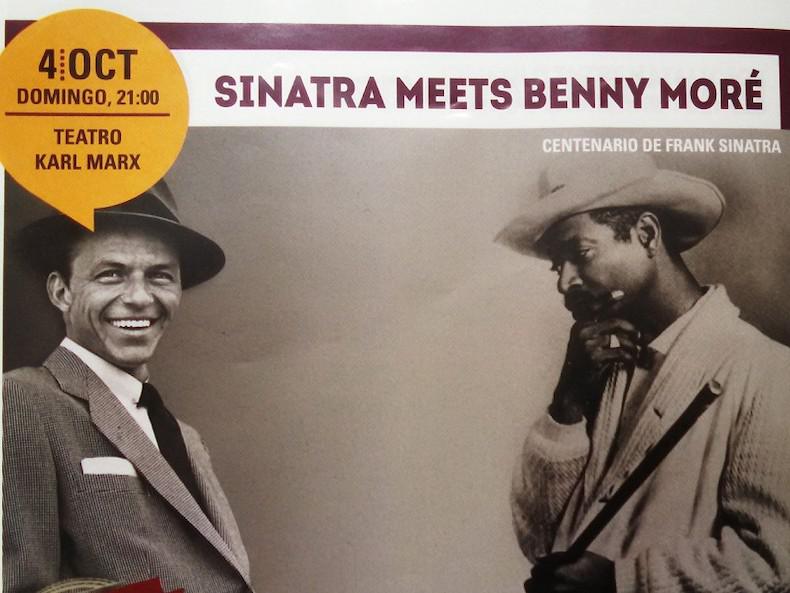 The first part of the concert was dedicated to Benny More. His Obertura Francisco, Guayabal, Locas por el mambo ("Crazy for Mambo"), Fiebre de ti ("Mad About You"), Devuelveme el coco ("Give me Back My Head"), Bonito y sabroso ("Pretty and Tasty"), Como fue ("How It Was"), Ay, cómo me gusta ("Oh, How I Love It") and Maracaibo oriental were performed. The second part of the concert paid tribute to The Voice, Frank Sinatra, and included such songs as Caught Speeding, One For My Baby and One More For the Road, Almost Like Being In Love, Come Fly With Me, They Can't Take That Away From Me, Fly Me To The Moon, Lady Is A tramp, I've Got You Under My Skinn, Count Bubba's Digital Soufflé and the touching It Was A Very Good Year.
Augusto's voice, his tessitura, his passion while singing Cuban and American pieces, revealed the deep respect he feels for each of the pieces. The Canadian jazz band did a marvelous job of interpreting Cuban music, capturing the essence of the island's rhythms and at times sounding like a classic band.
The public's reactions to the songs of our immortal Benny More were the usual: joy, sadness, an eagerness to dance along on one's seat. This confirmed, once again, that the mythical singer is alive in every one of us still. This did not happen with Sinatra, however, after a number of pieces, people started leaving, a rather discourteous attitude, considering these magnificent musicians rehearsed for months to treat us to the show and many personalities from Cuban culture worked hard to organize the concert.
The theater almost empty (only the lower stalls were occupied), fervent admirers of these two international musicians were able to enjoy their immortal pieces, where their voices merged and advanced hand in hand, like old friends. The two are a treat to the ears and do not go out of style.