Blondie: Two Concerts in Havana (Video)
By Irina Pino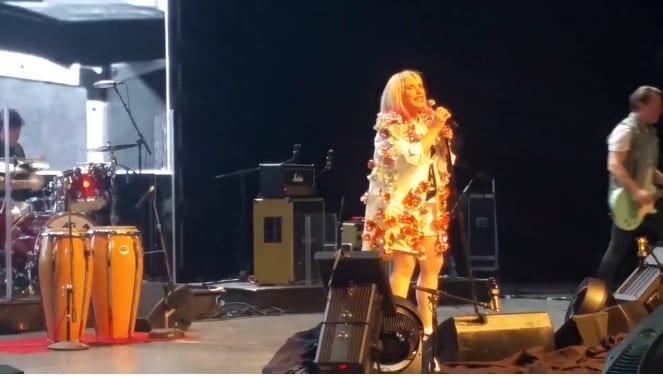 HAVANA TIMES – Blondie in Havana! That really did come as a surprise for Cuban fans! We thought that it was just another rumor, like many other times there's been talk about different famous bands coming, but then the national press and social media confirmed it. It really was going to happen!
My friends and I used to watch the band's music videos on the TV, in the '80s. I remember a platinum blond woman dressed in black and wearing dark glasses, singing "Heart of Glass" with an angelical voice.
At neighborhood block parties, we would listen to her punk songs on boom boxes, which were easy to move around back then, because if you got thrown out of one house, we would go to another.
Three decades had to go by in order for them to play in Cuba. Both concerts were held at Teatro Mella, on Friday March 15th and Saturday the 16th. The concerts caught a middle-aged audience's attention; but the younger generation also confirmed their curiosity for this ecclectic style of music, in spite of the country being under Reggaeton's siege.
It took five hours to wait in line and get a ticket. I think that the theater was to blame for this poor organization, as they could have sold tickets at all box offices. It also meant that resellers could do their business, because tickets for foreigners cost 20 CUC (=USD), while they cost 20 CUP (0.80 USD) for us.
I was told that the band came on a cruise ship, and I imagine that the show was part of the ship's program, which is why tourists on this trip had two nights in a row to celebrate.
Sintesis and David Torrens were their guests on stage and played before them. Even though they came out first to play, there was a pause as the prop men had to set up the equipment and the presentation of the US band, the highlight of the show, took longer too.
Debbie Harry came out on stage wearing a cloak that read: "Stop fucking the planet." An intelligent way of protesting against the harm that Man does to Nature.
The atmosphere was one of general happiness, people danced and sang along to the songs. Accompanied by her excellent musicians, they played songs such as One way or another, Heart of glasses, Call me (from the soundtrack of American Gigolo), Rapture (with more rap than before), Do the Dark, the song with a reggae beat The tide is high, and Dreaming.
I tried to get as close to the stage as possible and recorded some videos. I apologize if the videos aren't to the quality you deserve, my dear readers, but the truth is I was recording with my cellphone and not a professional camera.
With all of its flaws, this concert will remain an unforgettable memory here on Havana Times. I invite you to watch the video.
Blondie ofrece dos conciertos en La Habana from havanatimes on Vimeo.