Some Notes on High-Brow Cinema
Irina Pino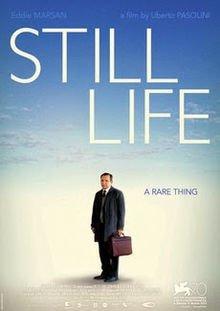 HAVANA TIMES — Browsing the Internet, I came across an article dealing with the many millions of dollars that film distribution would take in this year in the United States and Europe alone, and I couldn't help but be amazed, particularly as regards the blockbusters Jurassic World, Avengers, The Hunger Games and the last installment of the James Bond saga.
The industry resembles a sausage factory, where action and eye-candy are the one thing that matters. Messages of understanding, non-violence, personal growth and ethical values recede to the background. Entertainment can be useful and contribute to our lives; it shouldn't be an empty shell devoid of emotions, where the fleeting replaces the profound.
A lesson, something to hold on to, can become an experience that saves us. Relationships between human beings, beauty and love need to be reflected and reach many more people among film-lovers.
I recently saw Uberto Pasolin's film Still Life, which tells the story of a man who arranges funerals for special people, individuals shunned by their families, some of whom lived with their pets – sad people with anonymous lives and jobs who, at one point, were placed in desperate situations. Dark lives devoid of glamour that nobody knows or cares about. The lead actor didn't have the typical attributes of the leading man. His few gestures and words evidenced his introverted nature. Keeping things in was his expressive tool.
The main character is an employee who inspects the homes of the deceased, rifling through the details there, gathering evidence of their past links. His system allows him to highlight those special "cases." He is also a lonely man and his own life resembles that of those anonymous souls. This analogy is drawn throughout the film as a kind of dramatic thread.
He contacts relatives and friends to invite them to the final farewell, and, on different occasions, he runs into indifferent children and the distant friends who barely remember these people. The farewell ceremony is a summary of the life those who are no longer here, told poetically through the character's findings: family portraits, letters, greeting cards, simple objects, regarded as a beautiful part of the life that became extinguished. Death is seen from two angles: that of the employees who must dispose of the bothersome dead quickly and that of John May, who takes it on and pays posthumous tribute to those who "pass away."
After learning to value this "other" cinema, I am reminded of Chaplin and his wit, who taught us to laugh and cry, and to reflect, to not only see people but also that part of human nature that tends to be hidden.