Isbel Diaz Torres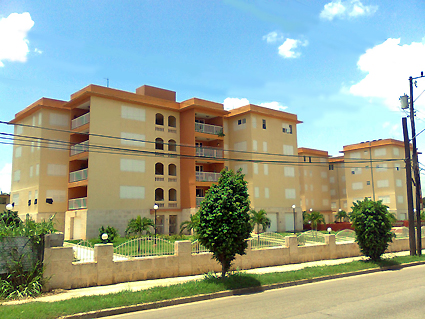 Luxurious apartments built on W. 25th Avenue in Havana for high-ranking officers of the Cuban Army and the Ministry of the Interior (State Security) contrast sharply with housing units constructed barely a few miles away in the capital's community of San Agustin.
In each of the wide balconies of the officers' buildings, for example, from the street you can see these have two light fixtures with incandescent bulbs.
It doesn't seem that the future tenants will have the duty of conserving energy like ordinary citizens of this country.  The wide glass doors and the elegant white blinds also help give that impression.
Since all the military owners will also own automobiles, it was deemed necessary to build expansive parking garages that take up the first floor of each building.
The doors of these new facilities —equipped with remote control units to allow the residents access without getting out of their cars— have left those members of the less civilized Lisa community beside themselves.
Likewise, one resident of the San Agustin neighborhood told me that the bathrooms for the officials are ultramodern, with electric showers and all the "bells and whistles" of glossy magazines and popular imagination.
A beautiful garden surrounds the whole installation, which in turn is surrounded by a stately wall. This controlled access will prevent any distracted passerby who might have otherwise wandered onto the lawn to dirty it with their unworthy soles.
For all this, the money can be found.
I decided to bring this situation up at the last Report-back Assembly (where our community delegates report on their work to the voters).
At that gathering they also tried to justify the delay in the delivery of construction materials to a doctor who had served in Venezuela.  The physician, who had been granted the right to an apartment, had agreed to simply accept materials to repair his existing home.
Years have gone by, during which time and hurricanes have struck the country and the luxury apartments have been built; however the doctor has not been provided with either a new home or even building materials. In this same way, thousands of Cuban families affected by the meteorological disasters continue to wait for homes for themselves and their families.
Is that ethical? Is this the "socialist morality" that is spoken of in our constitution?  I think not.  I believe that this is a mistake that those in power should hurry to correct.
An enclave, with perimeter walls and sentry stations?  I imagine that when the high-level officers who will inhabit those homes are making their high-level national security decisions, they'll be thinking the whole time of the valiant masses who read the newspapers or watch the national TV news.  Now I feel safer.