An Unauthorized Tribute to Cuban Singer Teresita Fernandez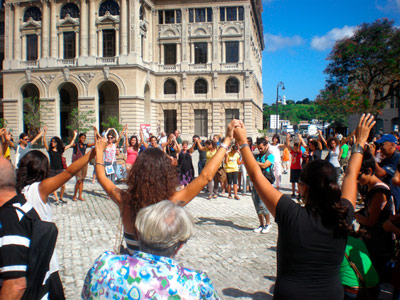 Isbel Díaz Torres
HAVANA TIMES – This past Sunday, a group of young people met in the beautiful San Francisco de Asis square in Havana's old town to pay a personal tribute to Cuban children's song writer and singer Teresita Fernandez – without having been officially invited to do so, without signed permits and without TV microphones.
Around one hundred people were invited to participate through the most diverse means. The initial invitation was published on Facebook and other social networks, without many promotional strategies. Some people who have no access to the Internet (like myself) simply found out through word of mouth.
The truth is that the experience was very enjoyable.
Someone took a small laptop and played a documentary about the artist, where the folk musician, sitting on a sofa with her legs propped up, told her own story, without embellishment.
This brought to mind a gathering at Havana's Barbaram nightclub (in front of the Zoo, on 26th street) that I attended some years back, where, to the delight of those present, Fernandez told jokes, shared anecdotes, and performed both children's and adult songs (which the adults avidly demanded).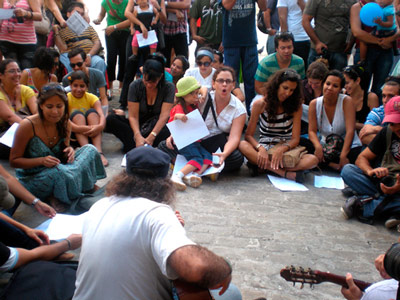 Back then, when she walked past me and a number of friends waiting outside to go in, she had said to us, feigning arrogance: "What, you've come to a see a cultural personality?" Immediately, she dropped the act and went back to being her regular, amusing self, saying: "How was my acting?" We all laughed, relieved.
In a few seconds' time, she became someone entirely approachable, someone we knew shared our dislike for the stuffy and politically correct attitudes of local artists, who are often far too busy thinking about how to behave properly to be invited to appear on national television.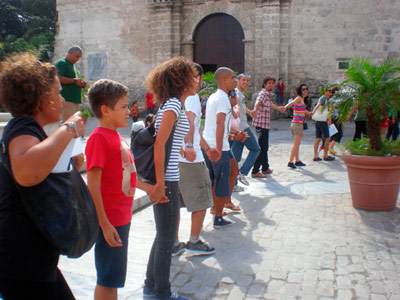 During our gathering this Sunday, we sang to Teresita (as best we could, awkward adults that we are) in a giant circle that encompassed almost the entire square.
Without any intention of staging a show or solemn farewell ceremony, hitting every imaginable pothole and crooning entirely out of tune, we, the timid, daringly sang – an exercise in freedom and gratefulness.
I pictured Teresita, hidden in the terrace of a nearby colonial palace, putting out her cigar against the bronze buttocks of a historical monument, laughing at us every time we got her lyrics wrong.
Good for us, I say. Little by little, we begin to shake off "the tenacious burden of our colonial yoke", to quote Villena.