Isbel Diaz Torres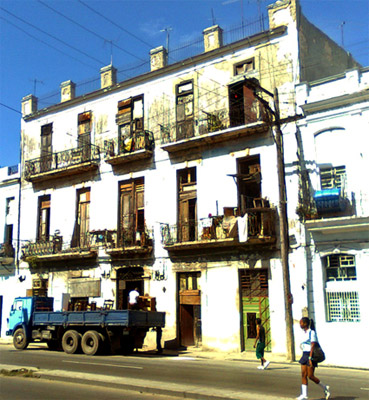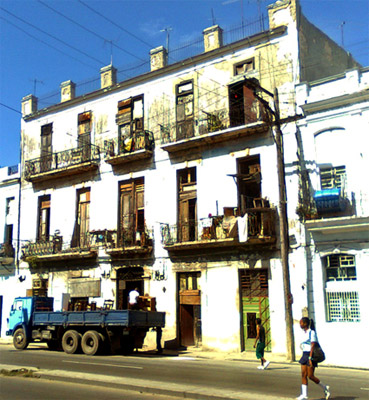 HAVANA TIMES, Feb 2 — Another occupied building has collapsed in Havana, this time only partially and with no fatalities, but in the same district of Centro Havana.
This latest cave-in occurred this past Tuesday (January 31), only two weeks in the wake of a shocking and lethal collapse of a nearby building on Infanta Avenue.
The building in question is located on the centrally located street of Zanja, between Aramburu and Castillejo streets, just four blocks from the other occupied property that crumbed on the corner of Infanta and Salud. In that previous tragedy, three people died and six were injured.
Fortunately, this time there were not even injuries, let alone fatalities. One young resident of the building explained to me that the entire bottom portion of the building gave way, destroying several of the rooms.
What's more, the implosion didn't occur at once, but gradually, as rooms were demolished one by one. According to statements from neighbors, today the building's residents decided to move their furniture out into the street, both out of fear that the roof would fall on them and to demonstrate their demand for a solution to this hazardous predicament.
The government sent a truck with pine beams to shore up the units, but residents remain seated on the sidewalk across the street, waiting for a real solution to this serious dilemma involving their homes.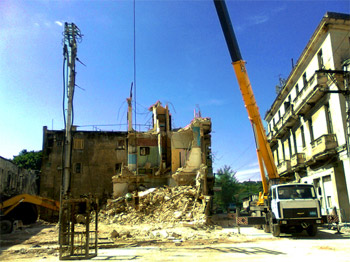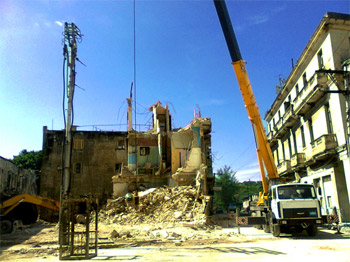 Some of them have already been assigned to public shelters and could be seen loading their belongings into trucks.
Other residents, though, have refused to move into the ill-famed public shelters; they are waiting for a better option from the state. Although they have limited options for the moment, they know that stays in government shelters go on for many years before relocated residents have an opportunity to move into an apartment.
It goes without saying that generally the housing stock in Havana is in very poor condition. Being a 500-year-old city that is the victim of a blockade, the world economic crisis and the indolence of public and private owners, little else could be expected.
The Infanta collapse took place on January 17 and cleanup crews are still working at the site, where those workers have yet to finish demolishing the residual structure or remove all the debris. Meanwhile the block remains closed to traffic as iron barriers have been set up around it and a handful of policemen assigned to the site (though we found them dozing under a portico to escape the midday sun).
When the annual rains come in May, it's possible that events like these could be repeated as the city's housing crisis deepens.
From what has been announced, the new formula designed by the government to provide home improvement loans and grants doesn't allow for major structural work, which is what is required for many of the dilapidated buildings that abound across the capital, particularly in the municipalities of Centro Havana and Old Havana.
Nor has approval been granted for initiatives such as construction worker cooperatives, which is seen by many as a feasible formula for making capital repairs under the direction of the city's teams of community architects.
Of course many of the buildings are in such deteriorated states of construction that the only plausible solution would be their demolition. This, however, is impossible without a housing option for those people still living in them.