Cuba Opens Up Its Ports to Polluting Cruise Ships
Isbel Diaz Torres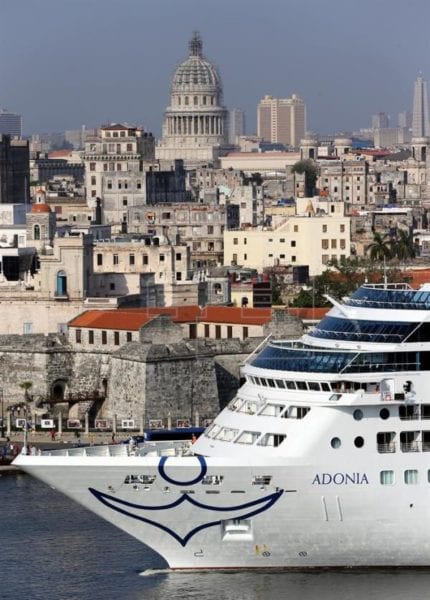 HAVANA TIMES – The cruise company Carnival Corporation, which began traveling to Cuba last May, has just been found guilty of pouring waste with oil into the ocean and of deliberately covering this up for 8 years.
The United States Department of Justice reported that Princess Cruise Lines, one of Carnival´s subsidiary companies, had been making illegal discharges since 2005 using a so-called "magic tube".
The ship used to get rid of its waste by avoiding the use of a piece of equipment that had been installed to prevent oil pollution of the waste residue and water that it discharged, which is extremely dangerous for marine life and can have extremely long environmental and economic effects.
The company has been found guilty of seven crimes and will pay a US $40 million fine. In addition, eight of Carnival´s franchise lines will be kept under supervision by an environmental program for the next five years.
And I ask myself: Is this the kind of business that the Cuban government does? Opening its tourism market to polluting cruise ships?
The Adonia, from Carnival Fathom, was the first cruise ship between the US and Cuba in over 50 years. It departed from Miami on May 1, 2016 with 704 passengers aboard, who were received in Havana by dancers wearing sexy bikinis which flashed the Cuban flag.
And it can't be said that this was a one-time incident, as Carnival had already been found guilty in 2002 of the "many occasions between 1996 and 2001 where it discharged oil residues into the sea due to the incorrect application of its pollution prevention device" according to what James Walker has stated, a lawyer who used to defend these kinds of companies in the past.
Of course, these fines don't mean anything to one of the world's largest leisure cruise conglomerates, which carried 98.2 million passengers and earned 20.299 billion USD in profits between 2005 and 2015, according to government reports presented before the US Securities and Exchange Commission.
The environmentally-friendly organization Friends of the Earth is currently demanding that the entire cruise industry be investigated, as it's clear that even when they have the latest pollution control technologies installed, these systems can be avoided or deactivated so that untreated waste can flow directly into the sea.
"Corporate culture that gave way to these fraudulent and illegal practices needs to be examined, both within the Princess as well as the other cruise lines that make up the Carnival group," stressed Kate Colwell, the spokeswoman for the environmentalist group.
Between 1992 and 2015, 317 cases of cruise misconduct were reported worldwide. Out of these, over 70% were for alleged water pollution cases, over 40% had violations of waste disposal regulations, and a dozen were air pollution cases.
Will Cuba take these complaints into account? Will eco-friendly associations on the island put forward any complaints to the Ministry of Tourism to request a moratorium for the entrance of Carnival franchise cruises?
Those of us who have studied the new Foreign Investment Law know that the State has maintained all the discretion they could to make decisions behind the Cuban people's backs, and as a result "details" such as environmental impact, payment of wages, privileges, among others, remain in the dark.