Heterosexuals against Homosexuals
Isbel Diaz Torres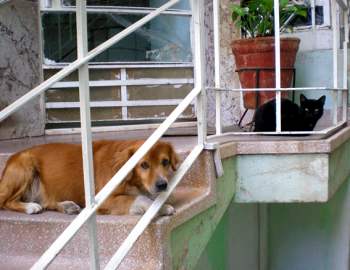 In the middle of the "Campaign against Homophobia," I found myself immersed in a diatribe against homosexuals, transsexuals and transvestites.  A teacher earnestly advised us (his students) that we shouldn't show up for the activity in the Vedado district on May 14.
The celebration is having greater visibility among the Cuban public.  The two man official media outlets on the island — the Granma newspaper and the Noticiero Nacional de Television (TV news) — have both featured it, which is very well received by LGBT activists in Cuba.  Other media agencies such as IPS have followed the event closely.
Unfortunately, I haven't been able to keep up with the events due to questions of work; therefore I haven't been able to weigh the social debate around the issue.  Yet it seems that sometimes it's best to maintain a certain distance to get a better idea of the reactions of other segments of the population.
What happened recently was that we had stopped for a break during a training course, when the teacher — jokingly — said to all of us:  "Whatever you do, don't show up in Vedado on May 14."  The majority of the students found his suggestion curious, but I immediately understood what he meant.
That is the date that the National Center for Sexual Education, headed by Mariela Castro, chose to organize a huge conga line snaking down 23 Street from the Malecon seawall to the Pavilion Cuba exhibition center.  This is an activity that took place for the first time last year.
The teacher immediately explained the reason for his recommendation: "That's limp-wrist day."  It was then that the students, overwhelmingly males, began picking up on that derisive comment.  One of my classmates weighed in saying, "Don't go to Vedado for anything, everybody who's there that day is going to be outed."
The event was then branded "International Feather Day," "Bird Day," "Cuban Bird Cage Day," among other names.  It was curious to see the lack of originality or creativity in relation to past times when the animal names were more diverse.  I can remember epithets like grouper, mare, duck and goose – which are now absent.
This was followed by a more serious discussion in which some people, in a "scientific" tone, explained that, "Not all of them are plain weirdoes, some of them have genetic problems."  But another guy interrupted saying, "Genetic or not, I think we should round them all up and beat the hell out of them with bats," as he saw the need to make known his attitude on the matter.
Of the three women there, only one spoke, trying to stand up for gay people.  She asserted, "Despite their problems, fags are good people." The teacher countered saying that she couldn't generalize, and that many were good-for-nothings.
The discussion continued in that mixture of jest and seriousness in which Cubans almost always speak.  What subsequently came up in discussion were the issues of sex changes, Cher's daughter/son (Chaz Bono), hermaphroditism, violence against transvestites and how Cuban society is lost.
What caught my attention was the mention of a supposedly official complaint by the National Association of Small Farmers for the use of May 17, "Campesino Day" in Cuba.
Even though I was tempted to jump in and give my position on many of the points, I remained silent.  It was a deeply homophobic environment, and I felt a mixture of fear and curiosity.  I feared what I expected would be a general reaction against me (including by the teacher), and at the same time it seemed useful to observe and note their opinions.
The operation of prejudice isn't unalterable.  Sexual education somehow takes root in society.  Those of us interested in eliminating injustices and violence against certain social groups or individuals should also know how to evaluate the effectiveness of our strategies.
It's also important to recognize that people are intelligent and they know how to adjust and even hide their opinions.  That's why it was best not to intervene – for that reason and for the final grade the teacher will give me in a few days.