Soy Meat, but Transgenic?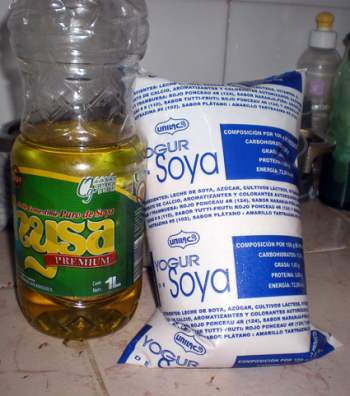 Isbel Diaz Torres
A great report on Cuban television stirred up comments among people.  It was about an intensive and extensive soya production program being undertaken by the Military Agricultural Enterprise and that employs Brazilian technology.
Soya became famous in Cuba during the economic crisis of the 1990s.  Using this grain, which has a high vegetable protein content, an attempt was made to meet the nutritional needs of a population severely affected by food shortage.
Various uses of soya included mixing it with ground meat and blending it into the yogurt given to children from seven to fourteen years of age.  Oil from the grain also began to appear in our diet.
The acceptance or rejection of food with soya has been varied since it was never part of our traditional diet.  Many families came up with successful solutions to support the strange tasteless ground soy meat , while others simply won't eat it.  Its oil, however, is generally well accepted by the public.
Why do we need more soya now?  According to the report, its production would allow us to avoid having to import 150,000 tons of the grain from the United States – a savings of $72 million USD (Cuba currently pays to $480 per ton for the product).  For this, the Cuban company CUBASOY will sow more than 1.2 million acres in the province of Ciego de Avila.
Such an ambitious project as this has required major investments, which have included recruiting Brazilian technicians and purchasing an entire factory from that South American country for drying the grain.  In fact, the whole system is mechanized: tractors, planting machinery, equipment for phytosanitary applications, and much more.  Indeed 90 percent of the equipment comes from Brazil.  Would it be wise here to speak of a "monopoly"?
It has been necessary to build roads, lay 32 miles of electric lines and dig new wells.  Irrigation will be supplied with water from the Zaza reservoir, though 40 percent of the water will come from the region's subsoil.
The areas to be planted were recovered after years of neglect and abandonment.  The plague of the Marabou (a thorny bush) had wreaked havoc.  The soil, red and high in iron, is of a low quality, meaning that it will require large amounts of fertilizers and pesticides.  In 2010, the areas that had been cultivated demanded 4,200 tons of chemicals for the control of plagues, while in 2011 they will receive some 5,800 tons.
The impact on the land will be devastating, especially if two harvests are undertaken annually as planned.  In an attempt to relieve the consequences that these aggressive practices pose, soy plantings will be rotated with corn.  This other grain product will be dedicated to the production of noodles and flour.
The project will expand up until 2013, especially if it meets the strict projections dictated by the executive director of the Agricultural Enterprize. General Rubén Martínez Puente
Division insists "on discipline and order, because to produce this grain discipline and order is necessary."
But worst of all, viewed as a total technological package, is that this involves transgenic soya from Brazil.  But did they forget to mention that on the television report?  Could it have been an innocent oversight on the part of journalist Gladys Rubio? And the corn?  Will it be the FR-Bt1 transgenic variety that Cuban scientists are developing?
There are questions, lots of questions, but the severe look of General Martínez Puente on the TV and opera music in the background leave no doubt: it will have to be a success.