The "Crime" of Begging on Obispo St.
Isbel Diaz Torres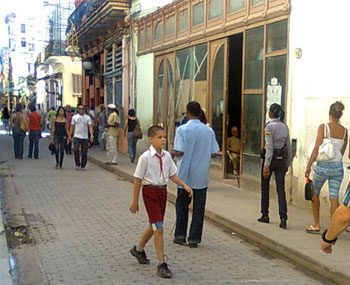 HAVANA TIMES — Eugenio Martinez Gonzalez is blind and used to begging in the capital's relatively expensive and elitist Obispo Street in Old Havana. Begging isn't on the list of self-employed activities authorized by the Cuban government, so he's always pestered by the police.
"I don't want to see you on Obispo!" a law enforcement officer told Eugenio. "You can complain if you want, but I'm in charge here," said the cop who calls herself "Chief of Detachment 2 on Obispo Street." Her badge number is 04548.
Eugene is just 43 years old, but his physical condition prevents him from working. This is why he has to beg for money on the street. Clearly, our Social Security Assistance mechanisms don't cover all of the needy people on the island.
"I don't have anything and they don't want to give me a retirement pension. To retire, I have to work on a job for a year, but no one wants to hire me because of all the mess with the impending mass government layoffs," he said.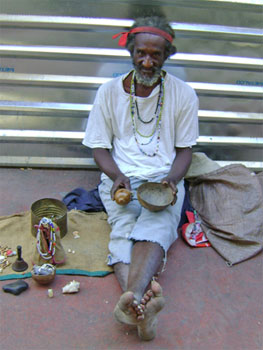 "After a year I could then present a medical certificate. That would mean six months of working and six months applying to the commission to be able to retire," Eugenio said, trying to be more explicit.
"She's on the corner giving out a fine to cellphone vendors right now. Can you tell me her badge number?" he asked. I don't know how he knew, but the police officer was indeed two blocks away, asking for the IDs of two other individuals.
Here's an interesting detail: This beggar and the two men on the corner, as well as the police officer herself, are all dark skinned. This makes me think that the racism expressed here is more institutional rather than personal.
Eugenio now knows the badge number of the young black policewoman. He quickly repeated and memorized them.
It's difficult to know exactly what he'll do with that information. It's hard to say how far he is willing to in demanding his rights.
Lecturing him about the possibilities created by the revolution for the physically and mentally doesn't seem appropriate. At the end of the day, it's his life, and he's done the best he could.
The spectacle of Cuban police abusing the underprivileged of society, often even stealing from them, is repeated again and again in the streets of the capital.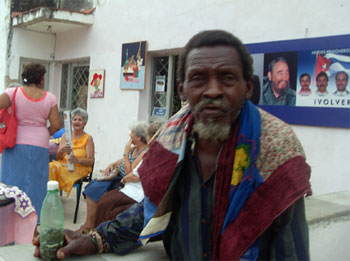 The little surveillance cameras that fill Havana corners don't seem to do much more than to intimidate citizens. In some videos that are passed from flash drive to flash drive, one can see uniformed cops manhandling civilians, even ones who are handcuffed.
Other times I've seen how foot patrol cops load up their trunks with products being sold by people without licenses. They'll let the person go without giving them a fine or recording their ID. But where do those products go? It doesn't take that much of an imagination to figure that out.
The level of vulnerability and the violation of individual rights is embarrassing, but it seems that protesting these things is "playing into the enemy's hands." Has it every occurred to anyone that whose really playing into the enemy's hands is the corrupt police?
In short, this case concerning Obispo Street reminds me of one discussed recently by my colleague Daisy. I hope the security agents who read this do something about such "crimes" on that little Old Havana street.