Janis Hernandez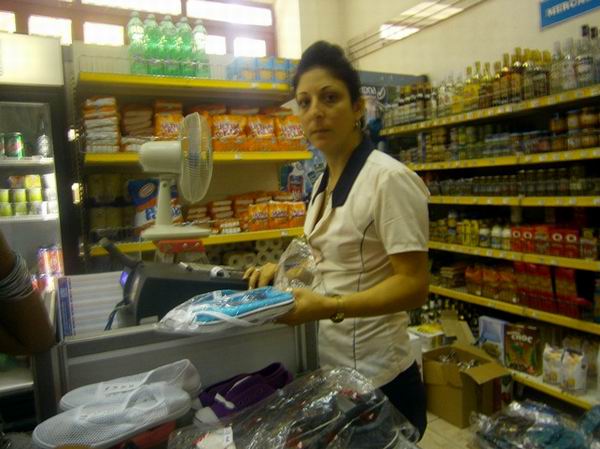 HAVANA TIMES — Hard-currency stores were part of a government strategy launched a little over twenty-years ago to collect and control the convertible currencies the population had. They appeared as limited companies or department store chains subordinate to the Council of State. According to official pronouncements, they are directly supervised by the Revolutionary Armed Forces (FAR).
These stores (referred to as "shoppings" in Cuba), were once the sale points where thousands of Cuban families were able to obtain some trinkets in exchange for gold and silver jewelry, coins and other heirlooms. Through this "initiative", the government took possession of nearly all the gold of many naïve individuals who, swept up by the enthusiasm, had their heirlooms valued.
There were even those who traded in their heirlooms as though it were their duty to do so. Only a few (very, very few) were able to get a car or something of some value, and one can imagine the amount of gold and silver they had to trade for these. It was the revolutionary version of trading gold for mirrors.
A short time later, these stores became chains operated by different corporations, filling even the most recondite corners of the island – CIMEX, TRASVAL, TRDs, Tiendas Panamericanas, in short, the stores we're all familiar with.
The supposed deals offered by these establishments, as is always the case in Cuba, were all talk. Let's have a look:
These stores are considered strategic business units. Their aim is to offer quality services and provide customers with the products they need at sale points. Their mission was to become quality and competitive neighborhood stores across Cuba, offering products and services that satisfy customer expectations, and to secure hard currency revenues that would make them profitable and contribute to the Cuban State. They were supposed to become examples in terms of quality and competitiveness, satisfy customers, and employ motivated and devoted workers that would ensure innovation.
All of this was nothing but hot air. Services were deficient, essential products were scarce, the stores almost always ran out of bags for groceries, the AC was regularly shut down at establishments – to say nothing of "lack" of spare change, made up for with candy or gum.
Now, we have the latest version of these stores: stores that sell products in Cuba's two currencies or Cuban pesos (CUP) stores. As part of the monetary unification process and the need to collect the convertible pesos in circulation, these stores are now selling products in CUC and CUP.
These sale points look like battlefields, where desperate people hoard food items (which never meet true demand). Services are worse and slower now because clerks go nuts having to go back in forth from the two currencies and count what's in the register every what seems to be 15 minutes. Forget about bags and a working AC.
Prices are an insult, particularly when we see the price of an item in CUC and its equivalent in CUP below, and find out a fan costs more money than what a professional makes in a month, or a kilogram of tripe more than an old person's pension. Shopping in Cuban pesos can be a shocking experience indeed.