Jorge Milanes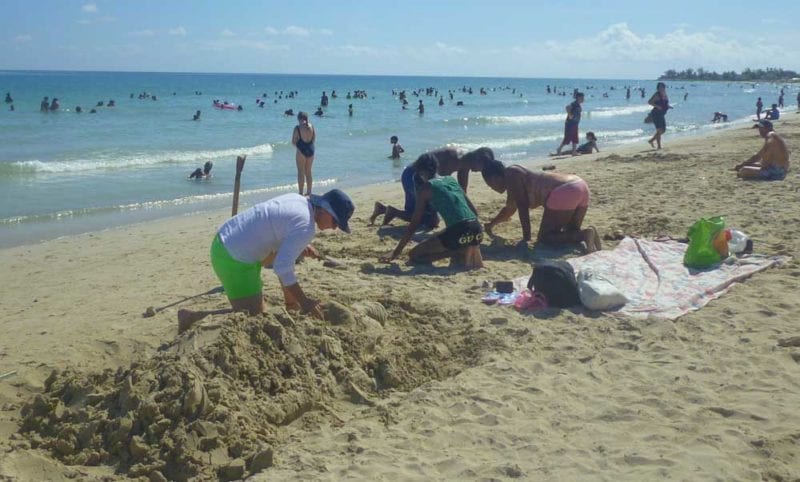 HAVANA TIMES – It's been a while since I've been to the beach, but I decided to go to Santa Maria del Mar today, located in east Havana, as I was invited by my friends David, Javier and Daniel who are staying at Villa Coral.
I agree to get to the beach early in the morning, there are only a few people and it's quite easy for us to find a spot with some shelter.
"Every time we come, the idea is to relax and have a good time," David tells us. "But you have to be careful because theft is commonplace here. We have to find a spot with a visual angle that let's us keep an eye on our things. We'll all be in the water at some point, having fun and we'll forget about our belongings," he finishes, as we walk along the sand for 20 minutes trying to find this place.
"Can you imagine going home naked?" Daniel adds joking about. "I was robbed once and I had to get back to Havana in my boxers. I waited for night to fall so I could catch a ride, luckily a friend came and took me home. It was madness," Daniel told us.
We found our "hideout" finally, a place where we could enjoy the beach, on the slope of a slight sand dune and some bushes on top which protected us from the sun. We also kept in mind that lightning might strike, so we'd need to move away from them. We laid out our towels, sweaters, caps, etc. and we took it in turns to go in the water.
Further up the slope, near the bushes, there was a family who had brought the real deal with them; backpacks, pots of food, beach chillers, phones, towels and a lot of happiness to have a good time.
It was midday, our stomachs began to rumble and we had to make a pact; "I'll look after the things while they go and eat lunch and bring me back something."
Hunger and waiting around were still my enemies while my earphones helped entertain me in the meantime.
Minutes later, I decide to go down to the shore and sit at an angle so that I can see everything still; our belongings, our neighbors' and other people's belongings, but some bushes catch my attention which are moving but there isn't a breeze.
A young man casually walks along the sand, looking at the situation, stops, and tells me that if I take a good look between the bushes, I can see a man with a stick trying to snag a backpack. He isn't one of us, but I immediately warn the owners who also manage to see the "backpack fisherman" from the water.
The youngest and slender member of the family leaps out of the water like a gazelle but the thief has disappeared, as if by magic and without getting what he wanted.
There are police officers on this beach! What do they actually do? Thieves have managed to make a mockery of them.