Jorge Milanes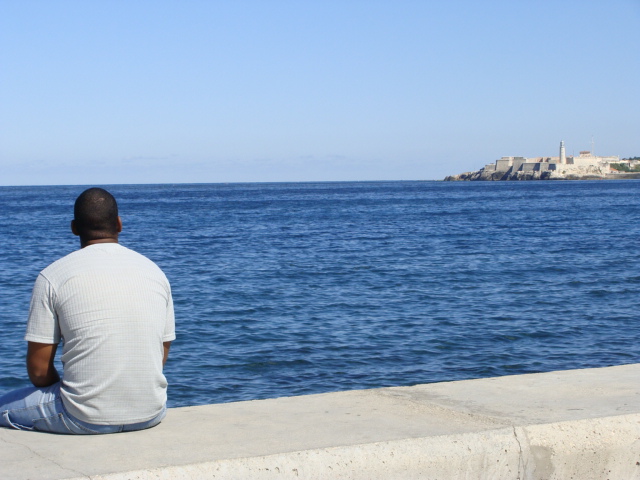 Walking along the Malecon seawall you can observe how much work is being done on the restoration of Havana, an old colonial city that has resisted hurricanes and time. Located on the sea, it receives the full force of the wind blowing off the Atlantic.
"It's incomparable!" comments a 40-year-old blond woman with green eyes and glowingly white skin. Leaning against the Malecon wall, she's impressed by the city's architecture as she takes photos of the area's buildings.  Her husband -with the hands behind him, wearing shorts and a cap- slowly ventures closer to a group of men working on the Malecon.
"Lot of work?" he asks one of them.
Noticing the tourist's accent, one worker replies willingly, "Quite a bit. Where are you from?"
"Australia," says the man in shorts.
"Ahhhh, no problem, Australia much money," comments the worker in broken English.
The worker tries to explain using expressive gestures with his hands.  But, without allowing him to finish, there appears another man, apparently the boss.
With an appointment book in his hand, this man adds, "The restoration of the city will be to the degree that resources allow. We don't have the materials we should; they have to be resistant to the high level of salinity.  They can be bought on the market, but they're very expensive.  Like you can see, the buildings are bathed in this salty air, so they need restoration.
The foreigner pays special attention to the explanation of the supervisor, who repeatedly asks, "Understand?"
"Yes," the visitor answers.
The worker continued explaining the situation of Havana while sweat ran down his face. He finished by telling the interested visitor, "We need a great deal money for the restoration of Havana if we want to keep everything in more or less the original form."
Just at that moment, a soft voice from the other side of the street called him.  His wife was waiting for him in a taxi.