Jorge Milanes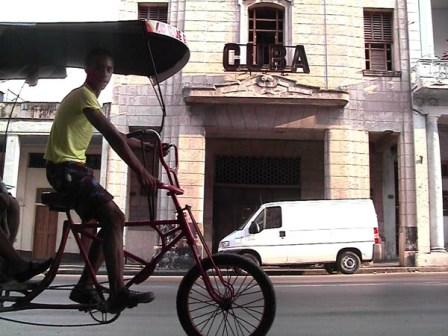 I looked at the clock at the head of my bed.  It was 8:05 a.m., so I got up, put on my shorts and went to the bathroom in the center of the house.  As I began to wash up, I suddenly heard a car horn outside and asked my mother to go see who it was.
She went to the blinds and opened them slightly to see a white car.  When I came out of the bathroom she said in a low voice, "I don't know who it is."
I went over to the window and looked out.  Seeing the same thing, I opened the door and I went outside.  Looking over the wall at the edge of the yard, I could see a well-cared for white car with a red license plate, indicating it was a tourist rental car.
It's not common for a foreigner to come to the house unannounced.  I went up closer to the car, and once the window opened. I asked, "Can I help you?"
There was a woman inside who made me my mind spin.  I couldn't believe what I saw, the day became paralyzed.  It had been 15 years without seeing someone who had meant the continuance of life for me.
She got out of the car, hugged me, and in a firm voice said, "I'm here!" I couldn't react.  My mother, who was watching the reencounter from the porch, realized who it was.
It was Rhia, the first tourist from Trinidad who I had the opportunity to get to know at the hotel where I had worked.  I had once brought her home, where she became good friends with my family.  Later, after a serious automobile accident that I had in '92, she took care of bringing me the difficult to get medicine I needed.
On the porch, almost without speaking, my mother broke the silence by offering her a strong cup of Cuban coffee.
"Here you have to break the ice and relax," she said. Rhia stopped suddenly to give a strong hug to my mother, who knew full well how much this woman had done for me and for her in that very difficult moment.  Today it wouldn't matter if she came unannounced or or not, my mother would do as much as she could to show her gratitude.
What was important was the reencounter – again seeing someone who for a long time we didn't know what had happened to, and from now on it's for us to spare no effort to welcome her.  Though we don't have a lot of money, we have more than enough love and affection to give.