We're Going to Build a Bridge
Jorge Milanes Despaigne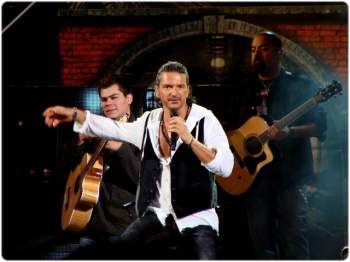 I have a friend who's been a radio announcer for twenty years.  In terms of the media, there's no one who can tell him anything new.  This guy has seen and heard everything, accepting orders and staying on the radio station this whole time because he's known how to catch and put a spin on the political rhetoric.
Last night he called to say hi and to update me on his work.  A big fan of Ricardo Arjona (a Guatemalan singer who for years has been interested in Cuba and has even visited the island), my friend told me that he had a copy of the artist's latest CD.
But it seemed there was a song that the higher-ups had barred him from playing on the radio.  It deals with an issue that is as sensitive as it is powerful in contemporary Cuba, which has experienced the division of families, the yearning for loved ones, and people who have gotten rich from the misfortunes of others.
"Titled 'The Bridge', the words of the song have a message that goes beyond politics.  With its precise language, and centered on reconciliation, it touches one's feelings through an encouraging tack," he told me.
"Before asking to borrow it from you, and going out to your place in Marianao to do so, I want o find out if the ban is only on your radio station," I said.
"No, brother, this thing's [the ban] at the national level," he told me.
"So what does the song say that has you so worried?"
My friend paused to maintain an atmosphere like the one he's used to creating on his radio program, and — after perceiving my growing suspense — he spurted out a verse that made me get up out of my chair and not think twice about going to his place to pick up the CD:
"We're going to form a bridge, a bridge brother / we're going to unite all of us with this tumbao [Cuban "umph"] / Guaracha a la Cubana with Celia Cruz and Los Van Van / there are traces of Havana in London and in Milan…"