The first step was to go through the door opened by the immigration official at the Havana airport; it led to a place that is mystical to all Cubans.
A place where people go who you won't see again for a very long time, and when this happened, they would look like someone else, as if they had returned from death, or life – I don't know.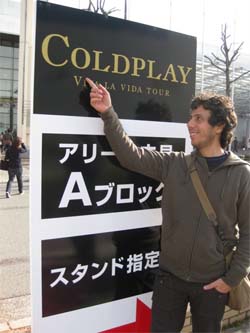 I'm talking about the waiting area for the airplanes that take you out of Cuba.
There, inside, I then experienced a totally new sensation -or at least a forgotten one- of being a person just like those who surrounded me, with the same possibility of realization and dreaming.
However, it was an impression I was not prepared for, and I quickly felt uncomfortable and distant.
The problem was not that I had never traveled by plane and even less that I had ever ventured outside the country. Instead it was a complete incoherence with what I should having been living.
Suddenly everything became confused, as if all my previous life had been in the placenta, and suddenly this strange and aggressive world was all around me.
Shortly after, they announced the departure of the airplane that would take me from Havana via Amsterdam, and where I would then have to change for Tokyo-Narita Airport.
In the airplane, to prevent the confusion that continued pursuing me, I began to recall how I had got there. It was in August 2008 that I met Yumiko, a Japanese woman who had made close contacts with my friends, who by then had emigrated to different countries.
Yumiko decided to make a documentary about her Cuban friends; and she has traveled to where each of them had gone. She went to Cuba to interview the remaining friends of the group and the families of all of them. That was when I met her.
It was not love at first sight, but at a very good second look, and we became boyfriend and girlfriend. Not long after our meeting, my new girlfriend returned to Japan, from where she sent e-mails and made phone calls almost daily; at least until she decided to invite me to visit her country to test our relationship more closely.
This was what led up to the flight via Amsterdam, with stewardesses that seemed like dolls, the small portions of food, the exquisite and strange flavors, and the buzzing of other languages, as if now adapting me to the custom of not hearing mine.
The airport in Holland was enormous, and I didn't have anyone to guide me, since no one looked Japanese or understood that I was traveling to that country. Nevertheless, everything was very well indicated on signs so that I could get to my next gate of embarkation to another world.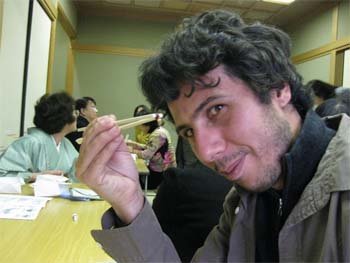 There, I noticed that my confusion had been transformed into a sensation that still accompanies me today. It's like a strange dream that it has become increasingly vital for me to understand, and that has softened my capacity for surprise and tension while living outside that which always was.
Amsterdam behind the airport glass felt very calm, almost rural, and with an indifference toward my persona, which I liked after having lived 34 years in a patriarchal country where you don't stop feeling an eye behind everything you do or think.
I was there four hours making short strolls, but returning to the exit doorway every so often fearful of missing the flight. I was circled by a few small fears of the new life that awaited me, but they were discredited by the character of the dream that persisted in my head, and which surrounded everything.
Suddenly, I didn't know how, I was aboard another airplane and surrounded by Japanese. I saw dawn for second time in the same day due to the time changes that were occurring. Once again I was asked to choose between chicken and pasta; juice, wine or water; coffee or tea.
Fortunately, my English, though not very deep, allowed me to survive and to satisfy my hunger and thirst. Narita Airport seemed long and narrow to me, but then I could follow the multitude and find the airport exit door only to meet the great surprise of being alone in the world for the first time, as if out of my shell and without my protective father.