Trying to Get a Home Telephone Line in Cuba
Two Pieces of Cuban Red Tape and No Solutions (2)
Luis Rondon Paz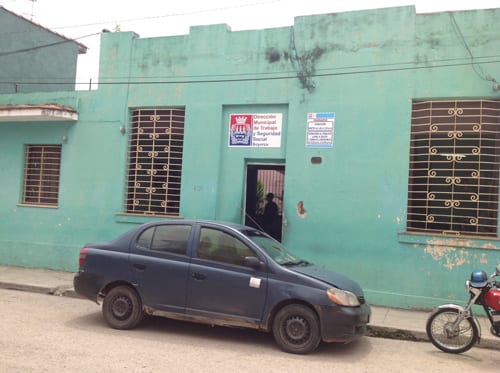 HAVANA TIMES — Many years ago, I imagine out of need, Cuba's telecommunications monopoly (Etecsa) decided to adopt a policy to try and invest in mobile phones and the Internet. They almost put fixed landline management and installation for the Cuban people to one side completely, to the point that, today, installing a new landline telephone in an ordinary Cuban person's home is an almost impossible task if you don't hold a very important role in government, a serious health condition or if it's a question of moving an existing telephone line.
Looking through the categories, I remembered that the Municipal Labor and Social Security Department in Boyeros was the new channel that had been established to deal with Etecsa about the service in question. As there is such a "small existing capacity", they were only giving priority to social cases, that is to say, to disabled people or to people who suffer from a grave health condition, and need to be connected in case there was an emergency.
I work in the city and I live with two people who fit this description, so I thought my case would qualify for the paperwork.
Thinking about that, I went to the corresponding office for Boyeros, located in the city of Santiago de Las Vegas. I received confirmation there that I did in fact meet the requirements set by the institution to be able to create a file which would contain all the documents that would give my case credibility. And so, from that point onwards, the bureaucratic process of revising, approving and transferring my request to Etecsa began.
It's not going to be that complicated, I thought. Even though that's when everything began to get complicated.
I had to hand in several letters to the Labor and Social Security office: the first letter had to explain why having a landline in our house was so necessary. The second letter had to come from a leader of the Federation of Cuban Women on the block which supported what was written in the first letter of request. The third letter had to come from the president of the Committees for the Defence of the Revolution (CDR) (neighborhood watch committee) approving my request. Along with these letters, I had to present a summary of our medical history with photocopies of all the health certificates, as well as my family doctor's opinion. This was because my request fell under the category of "Social Case".
Three months after I handed in all this paperwork, I was notifed by the Municipal Department for Work and Pensions in my hometown that my file had been approved and was now being taken up by the Government in Boyeros for their assessment and that it would then go on to another institution so they could reassess the file again.
According to a civil servant, with a little bit of luck, I'd have my landline within the year. However, a year had nearly passed and I wasn't too sure. Therefore, I went to ETECSA's commercial office in my town looking for answers.
Once there, one of the staff looked up my name and address on the telephone demand system (Sadtel), hoping that my file had been accepted.
I hoped that my file would already be recorded in the system, but it wasn't. None of my paperwork was on file. Nothing. Then, the manager advised me to wait a few more months, and to call up the Boyeros Municipal Government from time to time to check on the status of my case.
I did just that.
At that time, I was stressed because of the water situation I had in my house as well. Only God knows where I was able to find the patience to not lose my mind when I heard this news there.
As the director had dengue, another person saw me who had the gall to tell me that my block doesn't have the capacity to install a telephone, when I know full well there is, as a school was shut down on my block which had 10 telephones installed. Furthermore, the box where all the telephone cables are kept is located right in front of my home.
"Patience, Luis, be patient," I'd say to myself whilst the man continued on his demagogic spiel.
It was topped off by what he told me when I said: "If I had 500 CUC, I'm sure that the capacity necessary would appear out of nowhere to install the telephone line for me." Assuming the role of the honest hero or I don't know what, he demanded that I tell him which Etecsa employee had made me such an offer so that he could then denounce them to the police for corruption and fraud.
When I heard these words, I was embarrassed for him and I wanted to laugh in his face, a lot. Like he didn't know where these kinds of offers came from. My patience had already gone past breaking point but I had to stay there until my paperwork was finalized.
Keeping my calm face on, I found out from him that, nine months after I made my request at the Labor and Social Security office in my town, it would then be assessed by the government, passed onto other institutions which would then reevaluate my case before presenting it to Etecsa's board of directors. If they approved my file, they would then give the order for my landline to be installed. And then, finally, news of the approval would trickle down again from the top to where the request was first made.
However, that wouldn't be my case according to the man who saw me, as the only social cases that they were giving priority to "at the top" were those that involved children on hemodialysis. As a result, next year my file will most probably be taken off the priority list.
You tell me, all the time I lost to finally got me nowhere. How sad and how pathetic. So, I returned home to tell my mother the news, who ironically told me, "you have to be half-dead and put up a ladder from here to the heavens in order to go up and do the red tape in person so that things will come back down faster."
At the end of the day, I'd lost almost two years trying to sort out two pieces of red tape which along the official route have had no solution. My testimony serves as proof against the services and organizational management of Etecsa as well as Aguas de La Habana. They are incompetent and inefficient. Heaps of corruption and too much bureaucracy.