Collecting Funds for the P-2 Bus
Maria Matienzo Puerto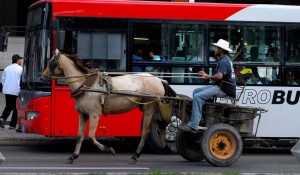 Normally if I get on a guagua (what we call buses here in Cuba), it's an Indiana Jones adventure, and lately it's become more exciting still.
The time between one bus and another can extend for more than a half hour.  And when they finally do show up, there are two, three or four all together, making the wait exasperating, because then everybody wants to rush get a seat.
I believe that I've already written about this in other diary entries, however what's new this time is what hasn't been said officially.  Nonetheless, it has traveled from mouth to mouth, like all Cuban news, and at some moment (the most gullible will see what I'm talking about) it will become etched in stone.
The gossip mongers say that the public transportation system is about to be converted into a cooperative.
Hmm!  What will people use to accomplish this?  What services will they provide to keep the children of our children indebted?  Yes, because no one has any money here, nor a bus parked outside their house waiting for the good news.
But anyway, I'm going to talk about what happened to me this week.
I climbed up in a P-2 (the number assigned to the bus route), and in addition to getting hit on the ankle by the door that was almost hanging off, the driver began yelling at me for the fare.
Up to this point there was nothing new.  It's normal for the drivers to demand payment, because since they installed money boxes to collect the $.40 cent fare, without the possibility of getting change for a whole peso, people started to just pay whenever they could.
But this time the driver's demands were different.  He stood up beside his seat and requested that we please pay (like a street musician in a train station or on a downtown corner) because the Cotorro Municipal Bus Depot had given the drivers a "vote of confidence."  If they didn't collect enough money, the bus system would bid them a fond farewell.
True or not, the driver used that as the excuse —instead of the real reasons— to solicit money from the passengers.  But if the public transportation system itself is broke, what do they expect of the passengers.
So, everything seems to indicate that this will always be the same thing.  They give an order and the others try to comply with it without applying the slightest bit of logic.
In the end, some people sympathized with the appeal of the driver and they passed him a little change.  Others decided not to give in since it seemed like such an unlikely story.