God Pushes and Others Drown
Maria Matienzo Puerto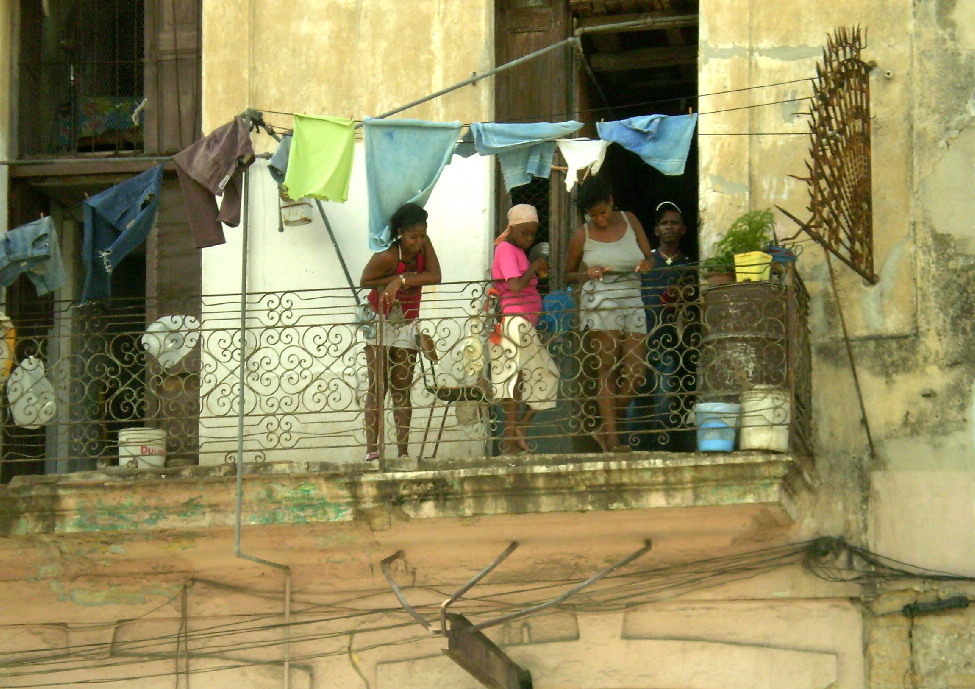 I have a friend who up to this moment hasn't lost her job; nonetheless, she's worried about the future.  She's been working for a short time as an editor, and though she's worked on no more than two or three books, I'm sure she's up to the task.  We've known each other for a few years, and whenever we sit down together I'm always astonished by her expertise as a critic and editor.
Like other young people on the island, she has cast her luck on her talent and intelligence instead of seeking to climb the political path.
In other words, she's not and has never been a Party cadre (this is what they call people who are "ideologically qualified" to manage), therefore she doesn't have the backing or confidence of anyone in a high-level position.  She's only been an activist in her own personal party.
Now that she's finally found her ideal profession, she's run into two obstacles: let's call them HP and IM.
HP is her boss.  He's never interested in developing himself, which means that his intellectual holes are no longer mere lagoons but have expanded into oceans.  What's more, though he's spent half a century doing the same job, he's afraid of everything.  The only thing he has an interest in is watching TV.
As for IM, she's a renowned intellectual who can't write, despite the fact that she knows a great deal about her specialty.  She spent years locked up inside her house because her social neurosis didn't permit her to leave.  Therefore she's settled for doing nothing more than fabricating myths and using them to poison the well of those around her.
She says she reads, but when you talk with her you immediately realize she hasn't picked up a book in ages.  Seeing herself a victim, she seeks to retaliate against others who haven't done anything to her.
For generational reasons, HP and IM have known each other for many years.  They're both now at the age to retire and rest, but by virtue of the fact that they have nothing else to do, they've dedicated themselves to tormenting my friend.
HP and IM are comfortable in their positions; they can accept anything that comes across their desks without questioning even a comma or an unlikely fact.
This being the case, they gave responsibility for the "book of their lives" to some fool: my friend.
Now, after she worked like a slave, HP wants to take all the credit.  He created such chaos around this that my friend put up no resistance.  Likewise, IM is arguing that she did the heavy lifting.  So, between all the wheeling and dealing of those two, they plan to claim everything produced through my friend's efforts.
My friend is destroyed.  She feels drowned by the power of others.  However, through this she has discovered something: the book is a big scam.  It's one more manipulation of the history of Cuba and she doesn't know what to do about it.
She doesn't feel this way only because of what happened with HP and IM, but because after doing some parallel fact checking she discovered certain key information that made her question everything that's in the book.  (And this should be weighed while keeping in mind that this is a dark period in which hardly any verifying is ever conducted.)
No matter how much I console her and try to tell her that the profession we're in is thankless, she doesn't understand.  To top it all off, she believes that as soon as she returns from the medical leave she was compelled to take, they're going to fire her.
Since I only have my friend's version, I don't know what to think.  I don't know if I can take it as truth that there are an excessive number of people in her department and since her boss is being considered as a part of that surplus, he's determined to build a case against her.
At any rate, what I've been sharing with her are the sayings my grandmother used to tell me: "Everything that happens has a reason"; or "God might push us under, but he doesn't let us drown"; or "If your illness doesn't have a cure, why hurry…"; or "Between heaven and earth nothing is hidden, you'll find out soon enough."