Browsing Through a Cuban Classifieds Page
Warhol P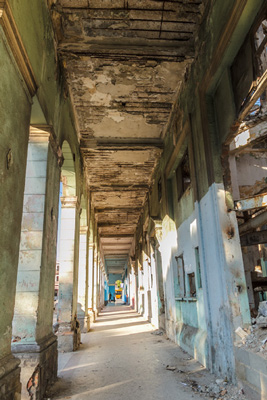 HAVANA TIMES — This week, I decided to flick through www.habana.porlalivre.com, one of Cuba's online classified pages.
I almost never browse through these kinds of pages, but, in view of the chaotic condition my ten-year-old computer is in at the moment, I decided to take a look to see how much money I would need to get my hands on a laptop in better shape.
I did it mainly to get rid of the nagging feeling I've had for weeks, the fear that my computer will suddenly die on me. That would mean a great loss for me, considering I've done much of my literary and photographic work in it and I have almost come to regard it as a relative of mine.
Just picturing its demise makes me want to cry. For many years, I wrote all of my work by hand and, quite frankly, one gets used to a good thing quickly (the most normal thing in the world is to want to move forward, not backwards).
When I visited the classified page, I immediately realized that, though one can find just about everything there, prices are sky-high. There, I found ads saying things like: "Used mini laptop, good as new. The battery has run out, but the laptop works perfectly well when plugged to an outlet. 250 CUC."
I was left speechless. The laptop is used, but one should consider it new, even though the battery's dead. And then there's the price. How long could a mini laptop with those characteristics last?
Another ad that horrified me went like this: "Super-hot offer. ACER Aspire laptop. An excellent laptop. It's almost brand new. The price is 300.00 CUC, because it's used and has a loose cable. The battery isn't charging. Don't miss this opportunity!"
I can't imagine how much that laptop could cost if it didn't have the defects listed – perhaps more than a car or an apartment in Vedado (just about everything is possible in Cuba). I didn't get what opportunity we weren't supposed to miss.
The more ads I read, the more disheartened I became. The prices went from 650 to 300 CUC. The cheapest computers cost 200 CUC, but all of them had some kind of defect.
Before calling it quits, I decided to publish my own ad. Perhaps I'll get lucky and find a buyer. My ad reads:
"Don't wait, I have a killer deal for you! Gateway laptop with a 40 Gb hard disk. Ten years of use. The speakers aren't working and the computer shuts down all by itself when it overheats. If you place a fan next to it, it doesn't shut down. No fan needed during winter. The power cable is damaged, but, if you tape it up, it's as good as new. Only 300 CUC. Don't wait till tomorrow, buy it now. Call now!"