Cuba and the World's Oldest Business
Nonardo Perea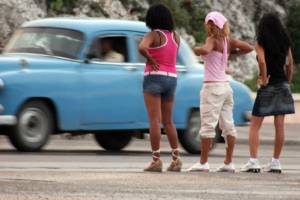 HAVANA TIMES — On Sunday, October 12, I was invited to the birthday party of a close friend. A cousin of his had offered her apartment for the party. The apartment is close to Old Havana's well-known Parque de la Fraternidad.
The owner has been legally renting out the two bedrooms in the apartment for two months. The day of the party, I wasn't in the mood for drinking. During my stay, I only tried the occasional snack and enjoyed the company of my friends, who do drink and usually have a very good time under the influence of beer and rum.
The observant type, I saw that, in less than three hours, more than five girls and their partners (some young, others not-so-young), had gone in and out of the bedrooms. A group of four shared a room for half an hour (personally, I feel that half an hour is not much time for a foursome. You're supposed to enjoy those kinds of things, right?)
Other girls would arrive and be told that the rooms were occupied. They would decide to sit and wait for their turn patiently, then go up into the bedroom to give their best and, most importantly, make a little cash with the sweat of their…brows.
A girl that caught my eye was a 20-year-old with a happy little face whom people called La Flaca ("Skin-and-Bones"). She was a regular customer, judging from the familiarity between her and the owners. "In a single day, she's brought as many as ten different men here, of all skin-colors and ages," my friend's cousin said to me after she'd had a few drinks too many. Many of the girls who use the bedrooms come and go non-stop and, according to the owners, don't ever rest, not in the morning or at night.
The price of room rental is relatively cheap: 1 CUC for half an hour. They sell beer at 1.50 CUC.
Right now, the owners of this business want to improve the conditions of the bedrooms, which aren't bad (but, if they improve them a bit, they can charge a little more).
An excellent and very prosperous business, don't you think?