Waking Up with the Rolling Stones (Video)
Nonardo Perea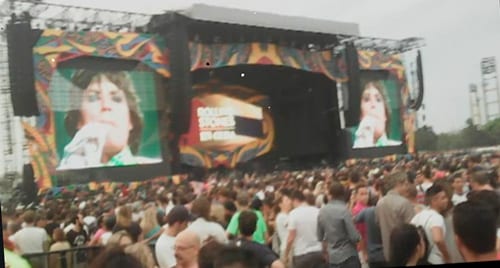 HAVANA TIMES — I'd like to share with you a video I recorded with my phone of what happened the day I got to see a band of excellent musicians. I've made the most of these circumstances to add a second part to the short film "Despertar", so that you can see how my life hasn't changed over the course of eight years, and I'm not only talking about myself with this film but of the majority of the Cuban people.
Yes, it's true we were able to go to a free concert, but that doesn't nourish us, it just keeps us entertained. I'm sure that in no time we'll be seeing the likes of Lady Gaga and Beyonce performing here. We recently welcomed Karl Lagerfeld who put on an exclusive show for the government's elite, as us ordinary Cubans were not allowed to get anywhere close.
We've also had actors and actresses from Hollywood filming the last edition to the saga "The Fast and the Furious". And in spite of who comes, we carry on with our basic needs.
Let it be known that I haven't captured everything in this film. Images of corrupt policemen charging 10 dollars to people who wanted to enter the VIP area so they could get a little closer at the celebrities, are missing.
When the concert had finished, there wasn't any extra transport like the TV had announced there would be. Over the 25 km I had to walk, I only saw two buses pass me by and they were bursting with people. They didn't stop at any of the bus stops.
But this shouldn't shock you. In our Cuba, anything is possible. This is the Cuba which US President, Obama, was unable to discover in the short time he was here, our land, which we love so much, in spite of everything.