Holguin, My Father's Home Town
By Osmel Alamaguer
My father hasn't visited his eastern family in many years.  The last time he did was with me and my sister; my mother also went, since she was still his wife at that time.
Almost 25 years have passed since, and many of the events that I lived there have been distorted and erased from my memory.  Nonetheless, I still have a general impression of Holguin and the experience of the trip, which makes me want to return, and besides, investigate a little more of my roots.
My paternal grandfather died before I was born; he was addicted to alcohol.  My dad's mother still lives in the city of Holguín, although she's a native of the hills, from a small town known as Mayarí Arriba.
Near my grandmother live many of my father's siblings, those who I barely had contact with during my childhood visits.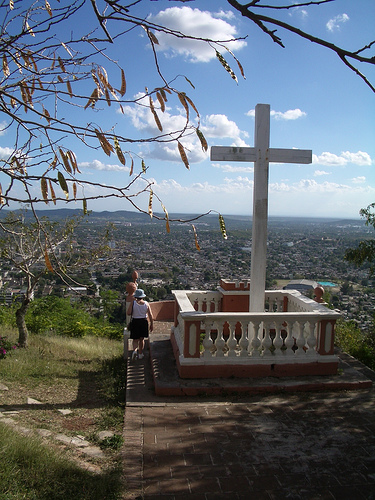 It's clear that when my grandmother was young, Cuban women had kids like hamsters, because there was no family planning, nor were birth-control methods known about, which would have been something logical in a place where there was hardly enough to eat.
After the revolution in 1959 the place improved a good bit, but even still, as late as the 1980s, it maintained great disadvantages in relation to the capital.  It's enough just to say that bathrooms were holes in the ground, known here as latrines.  Nor did waterlines exist; the water you used came from a well.  What can I say about refrigerators? – few people had them.
Despite all these limitations, my memories of Holguín are quite pleasant.  I was only six, but I still remember the adolescent body of my cousin Judith, the day we took a bath together.
Another thing I won't forget was the welcoming parties they had for us; our relatives would sacrifice a few of their farmyard animals.  I also recall us taking strolls through the city, but the only thing I remember is that there were a lot of parks.  (Holguin is known nationally as the "City of Parks.".
On my next trip I would like to see improvements over what I didn't like the first time.  I would also want to see that the cleanliness of the streets and neighborhoods has remained, contrary to Havana, which is getting dirtier every day.  Then too, I'd want to see that the people there have continued being as simple and elegant as my father, in contrast to the growing degradation worldwide.