Matanzas, the City of Bridges
Osmel Almaguer
As we entered the city of Matanzas, for me it was a completely new sensation and utterly different from what I'd imagined.
I only knew that this province was a major producer of citrus fruit and henequen fiber, that it had a very intense cultural life, and that a large number of Cuban baseball stars had been born here…ah, and that it's known as the "City of Bridges."
The first thing that jumps out at you is cleanliness of the streets, which were practically empty for a Sundays.
Equally striking is the architecture, a harmonic mix of colonial and modern construction, still in very good condition.  Other buildings are under construction, and you can sense the rapid pace of their development. I'd dare to say they'll be completed soon, I thought to myself.
The bus that brought us from Havana crossed the city taking us past El Palmar de Junco, a legendary baseball field on which the first official game of this sport on the island was played in the 19th century.
We continued traveling along the main avenue in the direction of El Morrillo, the place where Antonio Guiteras (the leader of the "Revolution of the 30s") fell as a martyr in combat.  Much earlier this fort had been one of the two points of defense of the Matanzas Bay; by its being so open, defending it had been much more complicated in colonial times.
Soon after, we continued until arriving at the San Severino Castle, the bay's other point of defense. This site was restored to preserve its history.  It has several halls: those of history, folklore, the martyrs who were shot in this very spot, and others.
Upon leaving, we headed for the Bellamar Caves, a tourist site par excellence about which I'd always heard spoken.  Now I'd have the opportunity to go there, I thought.  It was one of the debts I had with myself.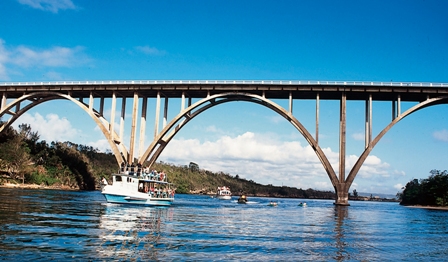 When arriving, they told us that it was not possible to go in because visiting hours were over, which struck me as strange – it was only noon.  What a shame!  I'll have to wait until my next visit to Matanzas (though who knows when that will be).
Then we were off to eat lunch at a restaurant that charged in the more affordable regular national currency (instead of the other hard currency one).  The bus went higher and higher up a steep and narrow road until we arrived at a kind of watchtower in which there were several restaurants, where we had reservations at one of them.
We were there for more than an hour and were still unable to get in the restaurant, since there was a huge line.  We took advantage of the time to look at the panorama of the city from this elevation.  On one side was an enormous valley with lavish vegetation and a few lagoons; on the other side was the city of Matanzas.  From there I could note how narrow and long it was, forming a ring around the bay.
When the time came for us to go inside for lunch, we took up a six-person table.  At it were my cousin, my father, three neighbors and I reviewing the menu.  We ordered Uruguayan beefsteak as the main dish.  The minutes began to tick by, gradually stretching into hours.
By four o'clock in the afternoon they still hadn't served us lunch. We complained to a server, who told us that the person who was waiting on us had left to go home; just like that – in the middle of her shift, with the tables set and us waiting. I couldn't believe it.
A half an hour later our food came.  By then all of us had headaches, and I knew we wouldn't like whatever it was we ate. I had thought these problems only existed in Havana.
With such a delay, night had fallen. The bus left and I said goodbye to the "City of Bridges," the rivers and the bay, country people and the sea, with the desire of returning one day – despite the incident at the restaurant.