My girlfriend from Pinar del Rio
By Osmel Almaguer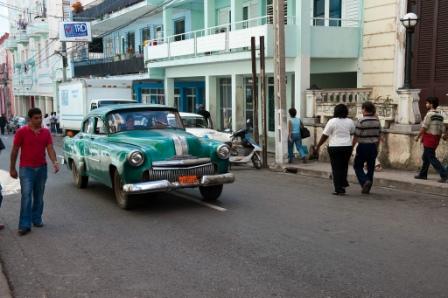 My girlfriend is named Milaisy. She lives in the capital of Pinar del Rio, the most western province of Cuba, 90 miles from Havana.
She's trained as a psychologist but works in public relations for Cauce Publishers, which is associated with the provincial office of the Union of Writers and Artists of Cuba.
We met each other through work, when I was recognized with an honorable mention in a poetry competition organized by her company. Everything began with simple courtesies, which developed into friendship, which little by little became attraction.
Our relationship is influenced greatly by the distance between us, which conspires against our romance.
Most of the time we communicate by phone or e-mail, because during these six months of our relationship, she's only been able to come to Havana twice, and I visited her in Pinar on just one occasion – which was yesterday.
A friend and I went in an old van that left from my job in the morning. It took almost three hours to get there, a trip that in a newer car would have taken just over an hour.
The journey was relaxed, though I wasn't. The landscape along the National Freeway is a bit monotonous, but beautiful, because it includes the mountains of the Rosario Mountain Range and the limestone outcrops of Vinales Valley.
What caught my attention was the few commercial services along the route; plus, all them were in CUCs (hard currency), which meant that we couldn't even order a soda.
We arrived in the city of Pinar de Rio, small in relation to the province as a whole. It wasn't difficult to find Milaisy, despite the fact that this was my first time coming here. We spoke a little and then went for a walk. I got to see a small portion of this picturesque village, where the townspeople fill the streets with their light-heartedness.
The kindness of Pinar residents has become a national myth, to the point of their being considered "fools."
Experts say the best tobacco in the world is grown there.
Pinar del Rio is known as the "Cinderella of Cuba," a name that it acquired when we were a neo-colony of the United States and its residents lived under the harshest of conditions.
Today I'd prefer to call it the "City of Hurricanes," because in the last few years it has been lashed with the fury of those disastrous storms.
The two hours in which I could enjoy being with Milaisy flew by. That day I spent eight hours on the road. During the return trip to Havana, my friend and I gave a ride to a psychology student who had to travel 50 miles a day for her studies.
She deepened the impression that I had of people from Pinar as being diligent and kind. I felt very fortunate to enjoy the enchantment of the city, as well as its people.