Osmel Almaguer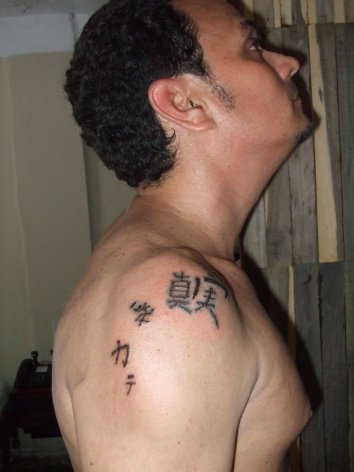 The fact that I loaned my arm to my cousin so that he could begin his career in the art of tattooing could seem like madness, but the true madness was that I found it all amusing.
You might wonder however, what's so amusing about an hour of work and pain so that you end up with a tattoo that remains half complete.
What happened was that my cousin didn't have a lot of money to buy the necessary tools, but he knows how to draw well and he believes he'll be able to become a great tattooist.
With that faith, he invested all of his capital (about US $60) in some needles, a bottle of Chinese ink and a rustic tattooing machine built from salvaged materials; this included a little motor from a sound system.
Breaking the ice is always the most difficult, because nobody wants to be the first one; they fear that the lack of experience will result in an ugly tattoo, one they'll have to carry with them for the rest of their life.
Thinking of this, my cousin came to me trying to tell me a white lie (that I never believed), though I wanted to do what in fact he did believe.  According to him, I would be the fourth person he tattooed, but his edginess and lack of practice in the preparations confirmed my suspicions concerning his inexperience.  For that reason I was a little fearful, but also because I didn't know how much it would hurt.
Both mysteries were made clear when the needles began to penetrate my flesh.  It was a bearable pain, though it was more intense in some areas than in others.  My cousin has a real talent for drawing, not only on paper, but also on skin.
The figure that I chose was rather complex, especially for a beginner like him.  It was a dragon formed out of Japanese characters, with a meaning that was by no means fortuitous.  That dragon will now be a part of me, of my body and my soul; from there it will have the sense that I attribute to it.
Each person is free to choose what they like and each one is the owner of their skin, to draw on it whatever they desire.  But it's sad when you sometimes ask people about the meaning of what they've tattooed on themselves and they don't know how to respond.
The needle continued piercing my skin and the heat drained us increasingly more, me as much as my cousin, and seemingly the machine as well – it broke down three times.  The last time it conked out, this left me with the desire to see my tattoo completed.
In a few days my cousin will solve the mechanical problems and finish my dragon.  His hope is to get a lot of practice quickly so he that can begin charging for his work and buy a new machine and additional tools.
My hope is that this dragon that has just been born is in good health, and that it learns how to get along with everybody else, as well as with me.