Mayari Still Suffering Transport Problems with its Horse-Drawn Carts
Osmel Ramirez Alvarez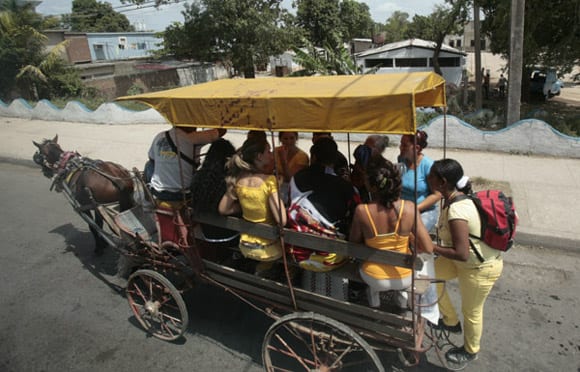 HAVANA TIMES – Public transport in the city of Mayari, the second most populated in the Holguin province, is mostly made up of horse-drawn carts. There is a public urban bus transport system, however it doesn't work at all. It doesn't provide a regular service because it often doesn't have the basic resources it needs to run, such as spare tires and fuel.
Thus, the horse-drawn carts are the transport option that residents can rely on.
Up until a few years ago, it was really easy to get onto one of these carts. They used to park in parking lots in a line, waiting for passengers to come and slowly fill them. The Cocal route, 3.5 km long, used to cost two pesos; and the route to the town exit, 1.5 km long, cost one peso. It seemed reasonable and it worked really well.
The drivers are real slaves to their horses because the moment they aren't paying 100% attention, thieves are always lurking about, day and night, to rob them and them hold them for ransom, sometimes for a couple of thousand pesos. A bag of hay costs 10 pesos and a can of sugar cane molasses costs 100 pesos.
They need to buy a bag of hay every day and the can of molasses lasts a week as they give out small doses to the horse, so they can endure the hard work without becoming weak. They also have to invest in new horseshoes twice a month. Plus, there's the cost of the license, road tax and the parking lot fee.
All of a sudden, the municipal government decided, for no reason, that the Cocal route (which is twice as long as the route outside the town), should also cost one peso. We later discovered that this was apparently because workers in this area had complained that it was too expensive for them to get to work and they don't earn very much. This low-income problem was resolved by unfairly reducing the price, at the expense of the drivers.
This order meant that drivers didn't want to take passengers to Cocal and they pile up in line to run the other route. Or they wait to be rented out. In summary, horse-drawn carts aren't regularly available for the busiest route and instead of being able to get one easily, people are now lining up anxiously, begging the drivers to travel their route and fighting to get on one when there is a driver willing to take them.
This is proof of the dreadful outcome that results from authoritarian measures without taking into account the interests of all of the parties involved. Add to this the fact that Leytevidal avenue (which makes up 90% of the Cocal route), is full of potholes and water pipe gutters which have been repaired, so driving a cart full of passengers for a peso, that is to say 7 pesos for carrying 7 people for 3.5 km is a nightmare.
Plus, it's not a fair price for the cart owner. Nor is it suitable work for the horses, who make a lot of effort to get out of a pothole to just fall into another one straight after, which could be classified as animal abuse. A crime which doesn't exist because our laws don't protect horses.
And the icing on the cake… well, it's worth pointing out that they have to buy the sugar-cane molasses from illegal traders, because as it is manufactured by the State, it isn't available on the retail market, nor is it given to drivers. Only state-run companies or cooperatives can buy it directly from the few sugar mills that still operate.
There isn't a company responsible for supplying it, as logic would dictate. Illegal traders make the most of the Socialist State's regular eye off the ball and incompetence and make up for these demands, taking huge risks, and of course this means it's more expensive than if it were sold legally.
The State isn't content with ignoring its responsibility in the supply chain, or in neglecting road maintenance works, charging high taxes or imposing low and unprofitable prices, they also sometimes carry out operations and capture the stock of illegal molasses sellers and this then leads to a crisis that lasts for a couple of weeks without it being found anywhere. When this happens, horse-drawn carts stop running and our transport situation gets even worse.
It already seems like too much, but I can't forget to mention fines. Cart drivers have identified over twenty different reasons for them being fined. Carrying one too many passengers, not having all their documents in order, or a bottle of water and a cloth to wash their hands.
It seems fine for hygiene reasons, right? But, the fines are excessive if you bear in mind how much these trips cost. Up until a few months ago, the minimum fine was 700 pesos and if that didn't seem very much, now it's been increased to a thousand. A thousand passengers who pay 1 peso each need to be transported in order to pay a fine for carrying one too many passengers! Just imagine how many inspectors are prowling about the carts so they can meet their monthly quota.
In a nutshell, there are many problems and the easiest thing to do is to indulge in populism with these private drivers, reducing the price of a trip by 50% and destroying the harmony of a small Self-Employed business. Which doesn't disappear completely because there aren't any opportunities.
The alternative is to work for the State for less than a dollar a day, which is an even greater misfortune. What's interesting is that if we analyze the rest of the self-employed sector who experience similar irregularities, hurdles and harassment, then it just leads to corruption, illegal activity and poor service. This is the sector that could have a greater role and impact on our economy, but is suffering the scourge of the system's evils instead, which it has been tied to so it can't progress.