About Cuba's Water Shortages and Other Needs
Pedro P. Morejon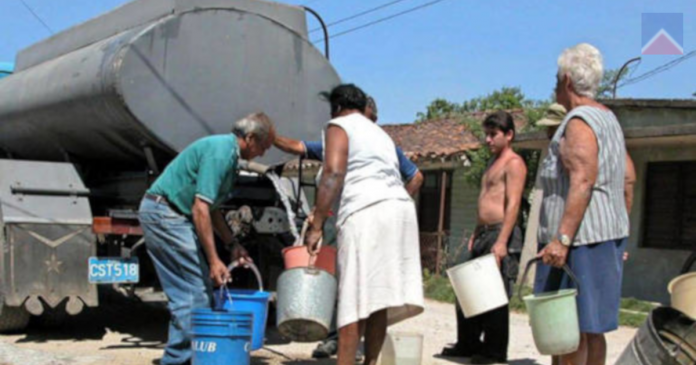 HAVANA TIMES – I live in a town in the province of Pinar del Rio with just over 6,000 inhabitants, where shortages are proverbial. Its little markets or vegetable stands are rarely ever stocked. It's one of those "lifeless" towns, as people say.
Luckily, it isn't far off from a provincial capital and those who work in the city can get hold of and bring something back to compliment the meagre basic food products that the State ensures with its "rations" booklet, which as we well know is only enough for just over a week.
However, if this small town is good for anything, it's its water supply. It has two or three wells which supplies itself, as well as other places. Water is supplied daily. Many locals here aren't even concerned about having tanks or cisterns to store water. In my own house, we used to have a medium-sized tank to store water up until recently, and we hardly ever used it, then we built a huge fiber cement tank so we had enough for a week.
All of this contrasts with the situation of most people in the province and the rest of the country. In the city of Pinar del Rio, there are places where the water supply is every 3 days, and that's when things are going well, other times, it comes every 7, 15 days, even 20 days.
In Alameda's new developed area, never. People there have to pay for water tankers every now and then. A million-dollar investment was made by the Institute of Hydraulic Resources recently to increase the power of the supply from water sources located 13 km from the city, but internal networks are so run down after being overused for decades, that the situation is little improved. Every once in a while, there is a breakage, you find leaks everywhere and people's complaints are non-stop.
As I said, none of this happens in my town, and if once every blue moon, the water pump gets damaged, the problem was solved in less than three days. Well, every dog has its day. The water pump blew, and it's been five days already. No solution has been found yet.
People are desperate. They aren't used to this misfortune. To put the icing on the cake, there aren't many places where you can fill buckets. My tank still has some left, and we have shared this with other neighbors for drinking and cooking because you need to be solidary in these times.
Luck up until now had been a self-employed man who wasn't from this town, who supplied everyone with his water tanker for 35 Cuban pesos*, to fill their deposits. Quite an affordable price if you bear in mind the fact that people are paying up to 300 Cuban pesos in the city of Pinar del Rio, even for state-owned tankers, taking advantage of other people's needs and pain. The abovementioned individual has been responsive because later, when there is water left over, he allows neighbors to fill their buckets and bottles for free to alleviate the situation.
Ah, but I wrote that it had been our luck… because it isn't anymore. It turns out that he didn't have his license documents in order, he was given a 2000 Cuban peso fine and so now he can't provide this service, all of this because some miserable person had the great idea to report him.
(*1 USD = 21 Cuban pesos and 0.87 CUC).