Telling Stories for Women who Love
Mirta Portillo performs in Havana
By Regina Cano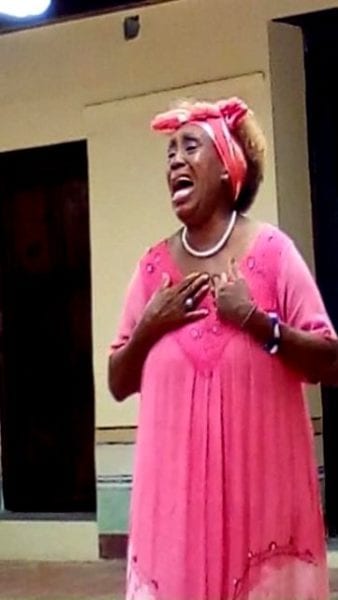 HAVANA TIMES – With a one-person presentation: "Women who love for better or worse", oral story-teller Mirta Portillo came to perform at Havana's Casa de la Poesia, last Thursday September 26th.
Linking stories about five Marias, the narrator revealed lives that would be common for any woman anywhere in the world. Traditions created as a result of people's actions and especially those established in a female environment.
She revealed to us a Cuban Maria, an African Maria, a Chilean Maria and every story drew the viewer deeper and deeper into the universe where tradition, popular wisdom, deeply-rooted patterns, the dynamics that personal interrelationships and emotions create, shape some women's lives.
Portillo introduced these different Marias one by one with great energy, strong gestures and articulation, giving us an insight into these women's love lives, sex lives and choices. And with regard to love, she touches on jealousy, surrender or abandonment, shame, lack of respect and misunderstandings.
There were Marias who were driven by rage, by the strength that they put into their lives, but especially by love, in this "romantic" way, but also in the rational way that some women experience love, and other times their judgement is clouded by inexperience and also by the experience of habit.
The story-teller sought out a tone that was closest to the speech of someone who duly transmits the feelings, emotions and viewpoints of the characters they take on during the performance.
The journey through these beautiful women's lives uplifted us, made us happy and made us sad.
Everything she was describing and more came from within the narrator and trying to tell the story in the best possible way, she recreated physical and mental landscapes and even the intellectual and spiritual planes of these Maria's lives.
"As if I had been a witness and my own body had experienced it, as if I had physically been there (…). I don't do anything I don't feel (…), if it doesn't come to me, I can't transmit it…" – Portillo once said.
"This project is something that I have been working on for seven years. I wanted a more elaborate performance (…) It took me a while because I didn't have the text adaptations. I rewrote the stories until I got them…" – she added.
"After this performance, I believe that it needs lighting design and reviewing it… I'm going to include another story, the story of how a woman who is trapped in a man's body frees herself (…) – she announced.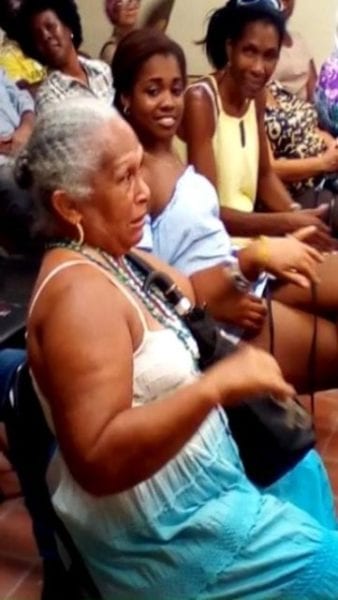 Narrated by Mirta, these women's memories weren't made just to tell women's stories, there were also victims of controlling Marias and other Marias who were able of transforming a man's life into an abyss.
Mirta's stories were agreed by the audience, who took part incited by the performance and the narrator herself, laughing or remaining in silence.
"… the audience also give the performance strength, they can change the narration. An active viewer adds extra value to the process, making the performance unique every time, giving feedback to every performance (…). It is told for the audience (…) who not only participate orally, but also emotionally. It's give and take (…)"- Portillo illustrated.
Mirta Portillo's life takes on just as many levels: a mother, grandmother and Cuban teacher, with advanced studies in Car Mechanics, who has been growing as a result of her performances and story-telling, after having been part of a Community Project where she played and told stories to children for a long time.
There was also a quest to know herself, to grow as an individual, by continuously and conciously learning by being disciplined and wanting to perform before an audience, which she has been doing for years now. She is a member of the National Union of Writers and Artists in Cuba. And she tells us the stories of some Marias this time, using world literature.
Click on the thumbnails below to view all the photos in this gallery. On your PC or laptop, you can use the directional arrows on the keyboard to move within the gallery. On cell phones use the keys on the screen.