Regina Cano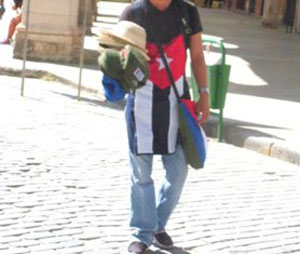 HAVANA TIMES — For those of us having been born since the Cuban Revolution has obviously marked everything in our lives, as is understandable.
Still echoing in our ears are the slogans of "Pioneers for communism" and "We will be like Che," which we were required to chant as children. Saluting the Cuban flag and honoring our national symbols remain the first relationships that Cuban children develop in kindergarten and primary school.
This was unalterable requirement in that the use of these symbols was strictly limited to official occasions and only in institutional settings. The situation remained like this from 1959 to the 90's, during which time one could detect in mid-level functionaries the fear that their actions might be misinterpreted if they violated any of these established rules concerning our symbols.
During the Special Period crisis (the 90's), the only place where one could get flags was in state-run souvenir stores.
Other than that, some Cubans still had flags they obtained before the triumph of the revolution or from their work places, schools, government offices, or their Committee for the Defense of the Revolution – or ones they had painted on their houses. Likewise, there were the little paper flags that were distributed and waved around in May Day marches and other demonstrations.
When people wanted to have a flag in their home, for me this also showed the pride represented in possessing one, generally this didn't reflect anything else.
Last year I heard an artisan at the crafts market complaining that they weren't allowed to paint the Cuban flag in their wares. Extremism? I don't know!
Currently we see Cuban flags painted and printed on everything, from wallets to aprons, caps and umbrellas and straw hats – just like around the rest of the world. But recently another person from the arts and crafts market told me that these days the authorities aren't so strict. Plus they're selling regular cloth flags in hard-currency CUCs.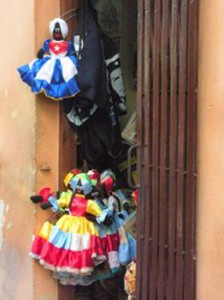 And people! – since the flag isn't only a piece of material, and since its essence is in what it stands for, I guess we're gradually learning to include it in other places without implying disrespect.
The problem is that after having gone so long with all those restrictions, and now having the "liberty" to display flags, sometimes we can go to extremes. We tend to confuse "liberty with licentiousness" – as my grandmother would say.
In this country there's still an overly rigid and heavy-handed manner of looking at our symbols when things should be measured in terms of any real intent to degrade, not for the mere fact that someone uses a national symbol.
We should look at things while seeking fairness, not strictly persecuting those who have no aim of disrespecting or disparaging those symbols, since the error of going after them would mean us remaining that much longer in our state of suspended animation.