The Dilemma of the Havana Handicrafts Fair
Regina Cano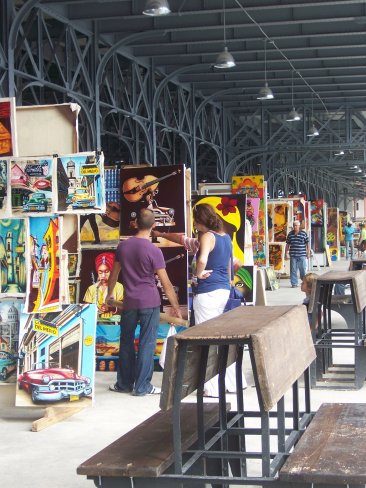 When other Cubans hear me say I work in handicrafts, their faces immediately light up. They exclaim, "Ah! So you don't have any problems then, you're economically secure." That always leaves me staggered because it doesn't reflect reality.
This thinking is based on the fact that crafts are bought primarily by foreigners visiting our country; that's to say, those who possess the other currency – and in substantial sums.
But the money-makers who should really come to mind are the middlemen, the dealers.
As merchants, these dealers are the ones who buy works from the producers at prices that are abusively low when compared to the prices charged by the vendors (erroneously dubbed "artisans").  It's the intermediaries who have generated this image of wealth with their possibilities for profits; though some exceptions certainly exist.
The Old Havana Handicraft Fair, one of the most important in the city, had been located in front of the San Carlos and San Ambrosio Christian Seminary for many years.
Acting upon a request by the seminary to move the site of the fair (and due to other reasons related to tourism and the potential this space offers for a museum), as of November 1 the Office of the Havana City Historian had completed preparations for a new site.  It is located along Alameda de Paula, much farther back along Havana Bay, skirting it.
Told this way the story seems fine, but in it are reflected only the two extremes of what has lasted through years of conversations, hopes and anguish – at least for those who sell at the fair.
Those involved asked who guaranteed this space would materialize some day in a country that resembles 'Macondo' -what some Cubans call the island, comparing it to the imaginary town in Gabriel Garcia Marquez's book "100 Years of Solitude."
As it turned out, in this same fair -along with the self-taught artisans and painters- space was shared by other painters who are graduates from art schools and who are affiliated with an institution. They perform their work with what they learned in academia.
This shared existence has always been marked by commercial pressures that artisan/painters exercise on the market through forces such as low prices, questionable quality (quick and easy to make works), the saturation of repetition and others.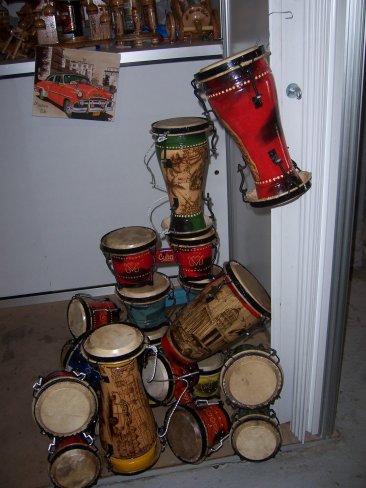 I would like to make it clear that, based on my appreciation of the arts, just as good of quality can be found in a work created by someone who studied in an art school as someone who developed their talents by rote.
So people!…when it came time to make the move, guess who was left with no right to relocate onto the new fair site?  It was the graduate art school painters.
I'm well aware of the mechanisms that have always "squeezed out" those that don't have references or a certificate substantiating their knowledge and profession in Cuba. This has conditioned and obliged people in all fields to seek an official status or else succumb to narrowing opportunities for not having one.  Nonetheless, I understand the distress this decision generated among those graduate painters.
What also occurred was that those artists who are invisible to official cultural Institutions could not easily be located in this type of market, which was also a "slip up" by governmental economic interests, since the existence of self-employed workers was approved (thank God) during the "Special Period" economic crisis of the 90s.
Well, I should say that I also learned that the self-taught artisans/painters found themselves aided by the City Historian Eusebio Leal from the beginning of this story.  Leal has benefited its residents and they speak in his favor. For their part, those artists associated with formal art institutions depend on the Ministry of Culture.
Following the course of what they recounted, the academic painters joined together to request the Ministry of Culture to negotiate their inclusion in this new space with better conditions.
With this end, they were received in an atmosphere of "cooperation" -with air conditioning and coffee- as well as being heard and encouraged by the promise of being included on par with the others.
Well, time passed and when the new fair opened up there stood the academic painters ready to take their positions.  But in front of them was a sign announcing there was no space for them – with no other explanations. They had been abandoned.
Days after learning about this news, I wound up seeing the new fair for myself since there's nothing better than one's own impressions and not those filtered through other people, even from those discriminated against.
I was told that Eusebio Leal, in his address when inaugurating the site, stated in front of everyone his intention to create a site for those who had been uprooted and deserted.
But that's not quite the end of this story. Let's see what happens later and if the status lost by those who are now excluded is recovered through the efforts of the historian. Otherwise this will affect the subsistence of several families.