One Step Forward and Two Steps Back
Rosa Martinez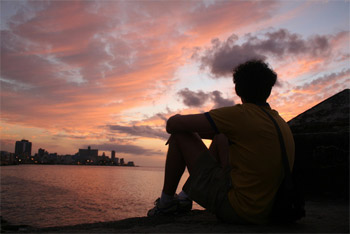 HAVANA TIMES — About a month ago, an online newsletter I receive daily in my inbox, brought me the alarming first news that blackouts were returning to Cuba again.
Extremely worried about what could be on the horizon, I spoke about this with various family members and friends who don't have access to the Internet, and therefore are only aware about what the Cuban news tell them, and we know exactly what that is.
"That's a lie girl, it's just another campaign to discredit the Revolution," one of them said.
"IMPOSSIBLE, Rosita," commented another, "there's no way we can go back to our past full of shortages and scarcity. No matter how many difficulties we face and the fact that we don't see the country progressing, we'll never go back to the past, that's impossible."
A relative I see a lot of because we live in the same house, told me: "Have you gone crazy, woman? The people won't stand for 10 blackouts or more belt tightening measures, they'll take to the streets."
I waited for the commotion to begin days later, when workplaces told their employees that there had been a 50% decrease in the fuel and electricity supply in the state business sector. That was all it was, a commotion that would make people save more and make managers make full advantage of company resources (i.e. steal less), and making people use take holidays in the summer season, instead of wasting time at work.
Unfortunately, that's not all.  Last Friday, Raul Castro officially recognized the "economic problems" the country faces in a speech he gave to the Cuban legislature (of course, we don't need any kind of confirmation because we all know this perfectly by now, what's new is that the problems we face are much worse than the ones we had before).
He also said that we wouldn't go back to the Special Period (I hope he's right because it would be a catastrophe, young people today aren't like what young people were in the '90s, they won't be able to handle a crisis like the one we suffered back then. Of course, those in power know this all too well, and that's why they don't want the people to be affected too much. However, it's one thing to want something and it's a completely different thing to have no choice and be forced to do something).
The President stated that there may be worse things on their way (in other words, shortages) but that we are better prepared now than we were in the past. That must be true because after half a century of the US trade embargo, a Special Period, an enemy who sleeps right next door, it must have all been for something. Although many people speculate that this is false, that we aren't capable of doing anything, because if we were, how do you explain such significant cutbacks overnight?
Among the causes for our current situation, he mentioned the failure to meet export revenue expectations and a reduced fuel supply from Venezuela, to name just two. I don't know what you might think about this subject, but I think that the only reason all of this is happening is because of the decline in Venezuelan oil. That alone is enough to leave us rocking.
Nevertheless, he assured that the Cuban people will be affected to the minimum possible, I believe he was referring to the blackouts because these have already begun to affect people. But how can people not be affected, if outpatient clinics and other non-emergency polyclinic and hospital services are only open until midday; banks are working without the air conditioning on and with less staff (a longer queue in greater heat); urban public transport, at least in Guantanamo, had seen a large number of new buses with new routes and a more regular service, and now it's gone back to what it was before or worse still; drinking water supplies to homes have gone from every other day to every three or more days?
Furthermore, if factories close for a month or 15 days in order to save resources, this will only lead to a greater shortage of national products on the market, without mentioning the importing of products that they called for substituting with national production years ago and never did. Somehow they think they can pull it off in the middle of our current crisis.
Last but not least, the call for us to save and take full advantage of our resources. We're already used to making more out of less, that motto became Cuban a long time ago, the only thing is I don't know if we'll be able to this time.