Rosa Martinez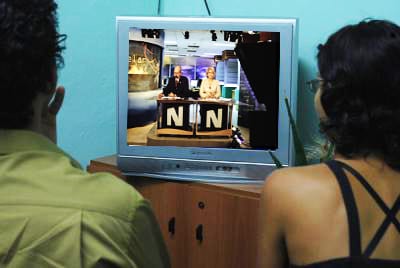 HAVANA TIMES — Since I was a little girl, I've been forced to watch the official National News on Cuban TV. "You have to be informed," my father used to say; "we should know what is going on in the world so nobody can fool us," my mother used to add.
And because we only had one TV set at home, I had no other choice but to watch it with them so I could go to bed a little bit later. Over time, this obligation became a habit, and then a necessity.
This is why at 8 p.m., unless something extraordinary is happening, everyone knows exactly where to find me.
My thirst for knowledge was at its all time high when I was a student at university. I didn't want to miss a single detail about national and international events. I was interested in anything and everything, whether it had to do with sports, culture, politics, science (everything sparked an interest in that young girl who wanted to know a little about everything).
Unfortunately, I've become less interested in our news show as time goes by. I guess it has something to do with three basic reasons:, first of all, news reports don't seem to represent the real Cuba anymore, what you hear in the afternoon news is repeated again in the evening news, and last of all, but most importantly, access to Internet has grown on the island, and with information from other news sources circulating, it's almost impossible to hide anything.
Cuba is changing…
Maybe not at the speed we would like it to, but our country has changed over the last 10 years. It no longer pains us to talk about dissidence, corruption, fraud, social differences, migration, major leagues… or is it down to the fact that the Internet doesn't really leave us any other option?
It's a shame that the only Cuban news program we have still doesn't reflect the times we live in. Stories from real-life people are missing, as are those of Cubans stranded across the American continent on their way to the United States, or those who are stuck in the middle of rainforests and at the mercy of human traffickers.  Also absent are stories about those who have taken on the mighty sea between Havana and Florida, or of young business-owners who are fed up with high taxes and a dearth in supplies. Our news show also lacks immediacy, guts and courage to tell us what is happening in our country, this and a whole lot more is still missing…