Waiting as Hurricane Matthew Zooms in on Cuba
Rosa Martinez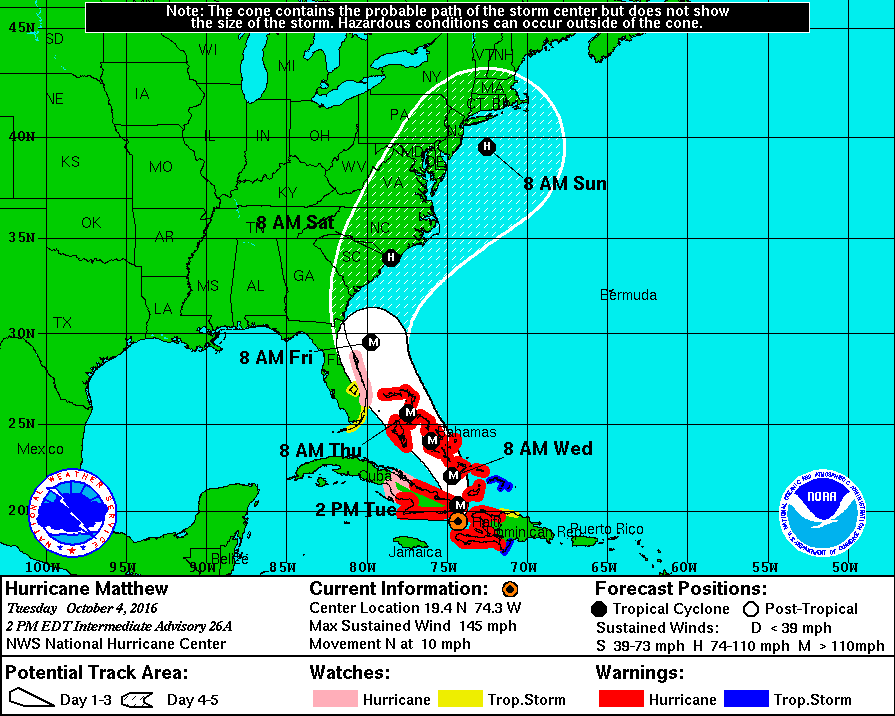 HAVANA TIMES – Exactly four years ago we experienced something similar to what now approaches us, although the chief meteorologist Dr. Rubiera has stated loudly and clearly that Guantánamo never faced anything like this.  Sandy – which barely brushed past us – was only a category three storm, a while Flora, which caused many deaths and great destruction in this zone, wasn't even an event of great intensity.
So, many of us were affected economically in one way or another when Sandy hit on October 27, 2012, and now everyone in the city of Guantánamo is aware that the monster that's coming towards us (fortunately, the eye now seems to be drifting a little more to the east) will cause great destruction, leaving many families with no homes or anything else.
So it's inevitable that people should feel afraid, not only for their own lives but for those of their relatives living on the other side of the city or in other towns, or even for the next door neighbors whose houses are in worse condition than their own.
I was one of those affected when Sandy, like a meteorite, took half the roof off my dwelling, even though I live well away from Santiago province.  I had to run to my parents' house, who fortunately live on my same block.  But I tell you that even though it was a very unpleasant experience, it's one thing to talk about it, and a very different thing to feel it; the legs of the bravest get shaky, the head swells, the heart pounds – not so much for oneself as for the children, which in my case are two…
Four years later, my house, though small and without a lot of creature comforts, is one of the sturdiest in the neighborhood; we dedicated all our earnings over a five-year period to outfit it in the case of a hurricane.  When Sandy happened, my husband said: "No other hurricane is going to find me with a house in such bad condition," and he worked and worked for this, and we got there.
Now my residence – although, as I said before, it's very small and we don't have any luxuries or many conveniences – has become a shelter for two neighbor families, whose dwellings will have difficulty even weathering Matthew's preliminary assaults.
The two families are small, but even so there are five extra people living with us.  My neighbors don't bother me; I've known them since I was born.  The elderly couple even saw me get born and carried me and changed my diapers, but because the house is so small it can be exasperating when you need to use the bathroom or when serving the food.  But it's nothing that can't be tolerated.
My two daughters are having a blast, since they have a new audience for their mischief and games.  For them the hurricane is a kind of fiesta, first because there's no school, and second because everyone is rushing here and there, so they can take advantage and do whatever they want.
But for the adults, it's nothing like a party.  Even though there're a couple of men on the block who've been drinking rum since yesterday, it's not a matter of celebration, or anything remotely like that.  They say they're doing it to drown a little of the stress (that is, to alleviate the pangs) and to forget what's coming towards us.  Others say you should drink today because God knows what we'll have by tomorrow.
In my house, four inhabitants and five refugees wait calmly, at least outwardly, for Matthew to arrive.