Veronica Fernandez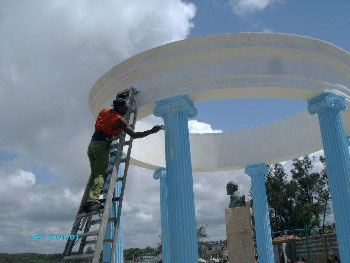 HAVANA TIMES — While the common Cuban is beating his or her head trying to figure out what they will throw together for dinner tonight, the Ernest Hemingway Fishing Tournament, a competition that has been held in honor of the renowned American author for many years now, is underway in Havana's municipality of Cojimar. I feel that, more than paying tribute to Hemingway, the contest is an insult to his memory.
Like most things in Cuba, the tournament had a good start but, in the course of time, has been degraded more and more. I say this for many reasons.
Today, you won't come across the game that used to be put up on display at the end of  tournaments. You won't even see anything remotely resembling a fishing vessel.
What you will see, instead, is a house painter touching up Hemingway's bust, in a public gathering that combines entertainment for children with dispensers of beer and hard liquor.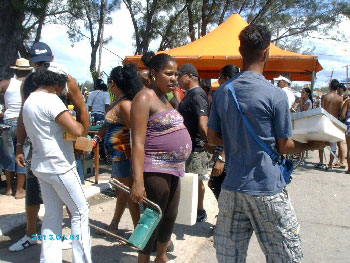 What has this event been turned into? As is the case with many other so-called popular festivities in Cuba, today it is dominated by stands offering alcoholic beverages, a few junk-food kiosks and ear-splitting reaggeton that assails your ears, makes any normal or pleasant conversation impossible and forces people to shout.
There are some who enjoy these gatherings, rather inaptly called "festivities". There are some who wouldn't be caught dead in one. And then there are some, like me, who go for a little a while, thinking it could be different from last year's and, struck by the crude reality, immediately leave.
The "fun and games", as Cubans say, turned the Cojimar park, located east of the Havana Bay area, into a rather depressing setting, in every sense of the word. Not far from this place, in front of a bakery, there was another "spectacle" I was also able to capture with my camera.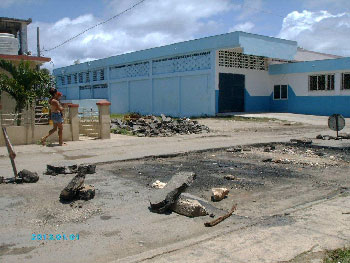 More than a month ago, a state construction brigade tore open a good stretch of road to conduct some repair work there. You would think the aim was rather to mess up the street, for I have yet to see the road back in working order again.
There is no shortage of such examples, which reveal the extent to which Cuban society has deteriorated.
I am convinced these stark contrasts are not accidental, that there is a deliberate effort to keep people entertained, to make robots of them, to keep them from thinking, analyzing or reflecting on their lives, to keep them from seeing beyond, from noticing what our lives have become and, heaven forbid, developing the capacity to think critically.
We are going backwards in time, journeying back to the bud, as Alejo Carpentier would have put it. This regression is gnawing away more and more of our integrity every day. In Cuba, Darwin's theory about the evolution of the species is proven wrong again and again.