Cuba: The Price You Have to Pay
Veronica Vega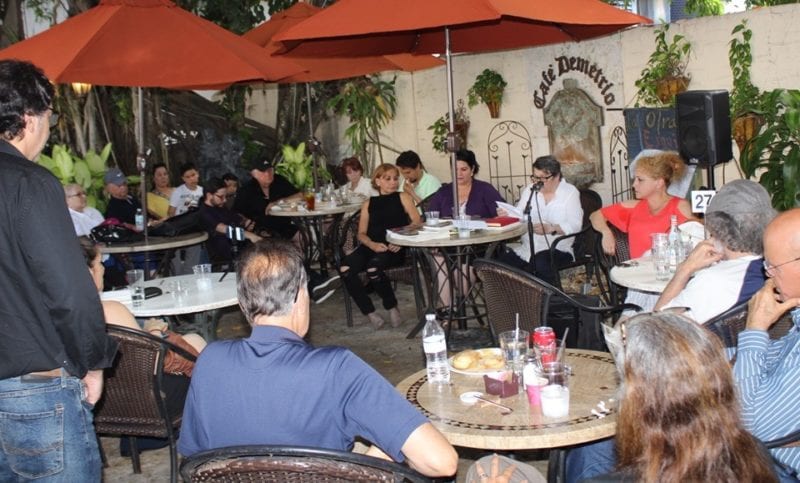 HAVANA TIMES – Presenting a book that has only been published in a foreign language and been sleeping on a hard drive for almost an entire decade, is a strange experience.
Even more so when this presentation takes place in a backyard where sparrows, identical to the ones I can see from my balcony in Alamar, flutter about and the warm climate completes the feeling of "being at home".
But, I'm not. There are too many skyscrapers in this city, and smooth streets filled with modern cars that make me feel like I'm displaced in time and space.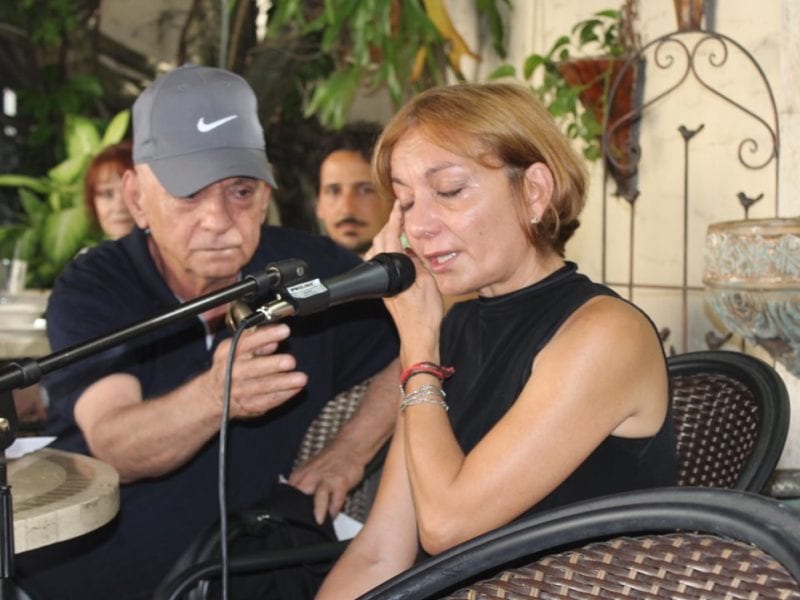 I hear voices with a Cuban accent, laughter. I carry on saying "here" when I talk about Cuba. I keep thinking that those friends that I used to meet at "Torre de Letras", or at the "Poesia sin Fin" festival, will walk through the door at any moment.
I forget "Torre de Letras" no longer exists, much less "Poesia sin Fin". I forget that there isn't a single literary space in Havana where freedom is allowed to exist.
Idabell Rosales, from Ediciones NeoClub (which published this novel condemned to years of stagnation), offers me her cellphone so I can call my husband. I'm worried because there is a concert taking place in Alamar right now, which might be interrupted by State Security.
The dear voice on the other end assures me that there isn't any danger, for now. I feel sad and I don't know why. Everyone is so kind. A friend is sitting beside me, who came just for me. I look at everyone around me: writers who used to live in Cuba and ran into invisible, ghost-like barriers. They got tired, they gave up or they just changed the place of their dreams. I wonder how they got here, what it's like to let go of an island, a life.
I begin to feel like I don't belong in this environment. Here, everyone is celebrating having been able to "cross the pond", they regret not having left earlier. Who doesn't celebrate leaving a cage or breaking out of a trap?
I remember a passage in this novel that is about to be presented: Juan Carlos Flores, a rugged and suicidal poet, says in his nasal voice: "Why insist on killing something that is already dead?" while people look at him strangely, he asks, do you want to know how a poet gets by, if there is another path that isn't riddled with anguish.
The event begins. Essayist Lillam Moro presenting two books by the poet Odalys Interian. My mind chooses words that drum like rain on an empty terrace:
nostalgia
sea
shipwreck
The author receives the memorial plaque for the Dulce Maria Loynaz Award. The author reads some verses and I only hear words that sound like liquid:
water
pain
heartbreak
I remember my mother, watching the sea from the rooftop of our building, the horizon that my father had disappeared behind. My mother holding her three daughters (an image that has rooted itself in my subconscious as a body tied to a piece of lead).
My mother who never made it to Miami and stopped waiting in that bed, a bag of I.V. connecting her hands, her legs, a death certificate to replace the ID card. The one we get when we turn 16, right when we think that our future will be bright and promising.
On what piece of paper, of what word doc. can I describe this feeling of devastation? My aged hands, my long-sighted eyes. The future that finally arrives, indifferent to what the tide drags in (what does it matter that these are the dreams of three generations?).
Applause breaks out.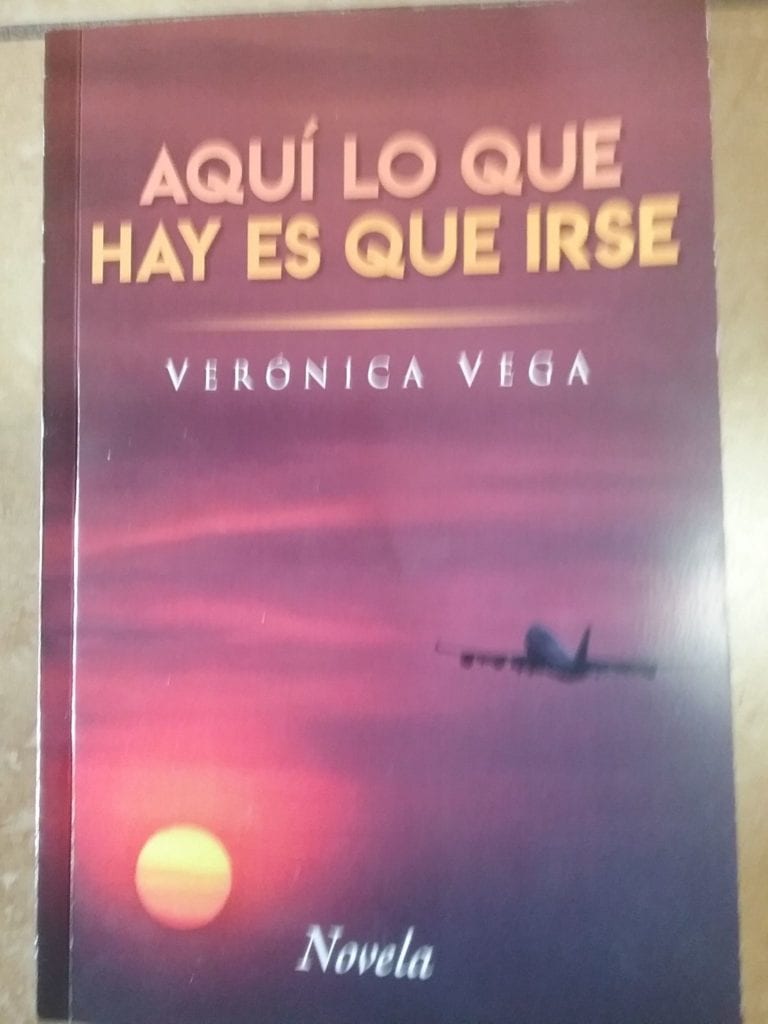 Jose Hugo Fernandez, author and journalist, presents my novel. His words charge like waves, beat down like rocks:
On the pages of my book "Aqui lo que hay es que irse", poets and artists are always passing by, always removed from sectarianism and the affected scrupulousness of vanity, working within an oppressive space where there isn't a place for them to create fallen angels, but instead behinds to be kicked.
The tears that are falling down cheeks, with no regard for protocol, social rituals, convince me that this presentation will be a disaster. I'm not going to be calm even when it's my turn to speak. I'm no good at facing the consequences of publishing a book or the voluntary leap into the abyss of existence (which I can't remember how it became a profession).
They move the microphone closer to me and I try to speak, convinced that nobody understands and nobody cares about this inability to speak in front of others.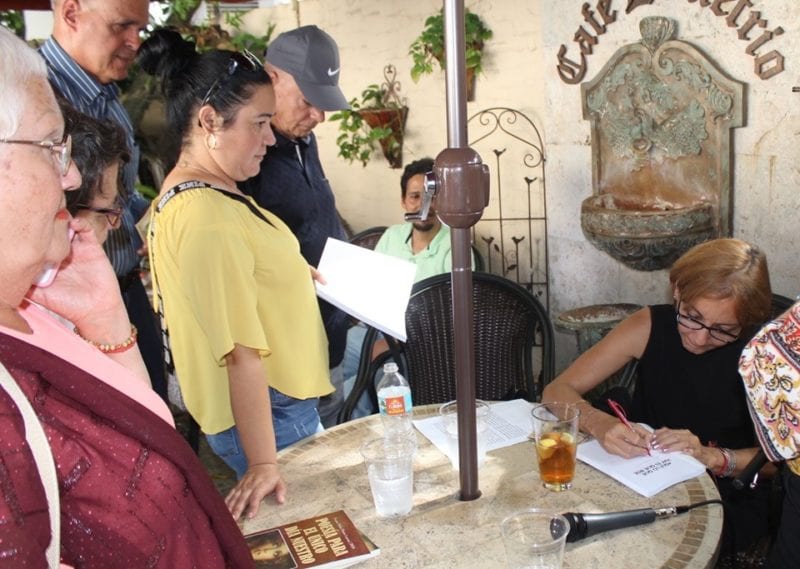 I think they applauded; I don't know. My friend tells me he's leaving. I just about manage to say goodbye because people are standing in front of me, waiting for me to autograph their copies of my book.
People who smile at me. Cubans who still suffer in spite of having "crossed the pond". Because leaving is not that simple. Because nothing is forever.
With a shaking hand, I scribble a dedication on the first page of a book, then another copy and then another…
And, I think about how this "circumstance" has brought us together, which isn't damned because "water is everywhere", but because of a painful shared story in which we were all conned of our dreams.