Veronica Vega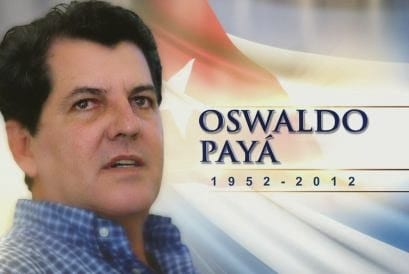 HAVANA TIMES — A friend told me how his father went off on one when he told him: "The Cuban government killed Oswaldo Paya." The violence that followed prevented any dialogue from taking place.
The violence incident followed the former Permanent Representative of Cuba to the United Nations, Juan Antonio Fernandez Palacios', outburst when he heard that the Oswaldo Paya Freedom and Life Prize was recently awarded in Cuba at a forum.
My friend's father echoed the government's version of events, the "diplomat's rightful indignation in the face of a sect of conspirators' constant provocation…". He reacted just like the official had: "I'm not going to allow you to insult the Revolution under my roof."
The son thought: Yes… The Revolution with its flawless reputation… With a noble and spotless track record of justice…
Ostentatious adjectives that he had also memorized and had to recite in his History and Civic Education classes, over and over again, like "a crutch". The crutch that ensures students pass the exam and even get an "excellent" grade.
He would have liked to have told his father, in a calm environment of mutual respect, that people (including political leaders and especially governments) lie, manipulate, twist events and words to make them suit their own selfish interests. This is the way it's been since the dawn of time and throughout the history of every society ever created by man. That's Human nature: selfish, greedy, inconsistent. And it's far worse in the highest spheres of society: power corrupts and absolute power corrupts absolutely.
That's why in criminal prosecutions, every defendant needs not just a district attorney, but a defense lawyer too. That's why events are investigated and proof and witnesses are called for on both sides.
A single version, much less a single edited version, where the alleged plaintiff never stops talking about the offender, should not be believed. And if another version is communicated (because the incident took place somewhere else in another context), national government-controlled media never tells this side of the story.
He would have liked to have told his dad that aside from preferences and ideology, there are many murky details in the alleged "accidental death" of Oswaldo Paya, the man who was the driving force of the Varela Project and founder of the Christian Liberation Movement.
His family haven't even been able to see the death certificate, one of the few legal rights the Revolution grants its citizens. If the government is so innocent, why isn't an independent investigation allowed to look into the circumstances that revolve around the "accident".
However, the father's exaltation, his rage, his frustration at having to face a political opponent in his own son, stopped him from articulating any kind of defense.
His father shouted at the top of his lungs, thus desperately stopping him from responding. The TV broadcast its unilateral transcription of the diplomat's outburst which desperately tries to maintain a sense of suggestion that is becoming weaker and weaker.
"I won't allow you to defend yourself," is the underlying premise in the outbursts lacking any argument. Because my survival resides in my violence, because my extinction resides in your defense.