Verónica Vega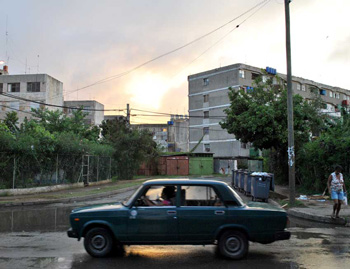 HAVANA TIMES — Unofficial news about cases of sexual assault have been circulating around Alamar with vigor these past few days. It is estimated that according to the number of victims, there are at least four rapists are suspected, and that both men and women have been affected.
A friend assured me that a teenage boy, who tried to get to the Neninger policlinic by taking a shortcut, was also sexually assaulted and abused. As well as a neighbor, the wife of a jeweler.
Where do you draw the line between reality and fiction when the context is so favorable? Areas with public streetlights are limited in Alamar, whilst vast dark expanses of vegetation are many. You could film a thriller or horror movie just crossing any deserted spot at nighttime.
I myself have had some tense experiences which I would not live again for anything in the world. Back then, I also heard rumors like those of today, but my despair at the time drove me to overcome my instinct and take a risk sensing my destination would not be so horrid. However I knew, from having seen it firsthand, that it is a true miracle if somebody comes and answers nocturnal shouts for help.
The most cautious do not go out much at night and much less so the early morning, but bad luck is unforeseeable much of the time. There are some people who just cannot choose because of work or study commitments. An illness related emergency or accident cannot wait until the morning either.
Most people opt for individual solutions: a powerful lightbulb on a rooftop, neon light tubes caged up to prevent them from being robbed, lanterns in closed off gardens…
While I have seen the entire lighting system be replaced along the Malecón in Central and Old Havana, they have not allocated even the discarded streetlights to the city that was baptized 'futuristic' in the '70s. Nevertheless, the same problem is spreading to bordering neighborhoods, such as Bahía, as well as to other neighborhoods within Havana.
Saying that assaults and rapes do in fact occur in Cuba is not a sensationalist hook. A young man lived near my building who went to prison on rape and murder charges, but he died in prison.
Once I was travelling in a collective taxi and I was witness to the driver's dismay, as he spoke of a crime that took place on Alamar hill: a taxi driver who was killed after having been brutally tortured. However, these kinds of crimes do not appear in our press. Nevertheless, the fact that bars are being put up on state shopping center windows is an official response to the rise in crime here in Cuba.
So, why don't they deny or confirm these rumors? Why do they not warn us about these dangers, nor take visible measures for our protection? Why do they not officially spread the news of the arrest and sentences of murderers in order to discourage potential imitators?
Cases which are sadly truly dramatic are dramatized a long time afterwards on the TV program, "Tras la huella", which is aimed at glorifying our infallible police officers.
How can we forget Eduardo del Llano's short film, "Brainstorm", where journalists of the Party newspaper discussed the subject of the next front page and one correspondent stressed: "Our journalism has to be optimistic."
We are already well aware of the price of this optimism, total alienation from national reality, including violence. The victims, real or not, pile up as hidden statistics, in the pain of their families, as trauma, sometimes unacknowledged, and in the frightening (yet avoidable) ambiguity of mythology.