Collecting Cuban Art Catalogues
Yanelys Nuñez Leyva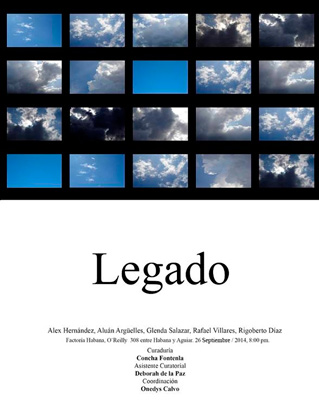 HAVANA TIMES — As the second half of November draws to a close, I go over the exhibitions held over the previous two months by reviewing their catalogues.
I am an avid collector of all these pamphlets, flyers, booklets, brochures and other documents.
My sister calls them dust-collectors (a comment that befits an allergic person like she is), but I treasure them as truly important documents.
I classify them in different ways:
By artist, gallery or exhibition, depending on the significance of each of these.
In September and October, I accumulated a total of 8 catalogues (and may have misplaced one or other among books and notebooks).
Important venues around Havana held openings during these months: Factoria Habana (La utilidad de la historia y legado, "The Usefulness of History and Legacy"), Casa Victor Hugo (Feminas, "Females"), Servando Cabrera (Mundo de mi mundo, "My World's World"), the National Museum of Fine Arts (Besame mucho, "Kiss Me Plenty"), the International Press Center (En tinta memorias de un taller, "Ink Memories of a Workshop"), and a venue I recently discovered: a private residence converted into a gallery, on Linea between L and M streets (Brujas pero tambien brujos, "Witches and Sorcerers Also").
As a curious detail, I would like to add that nearly 40 artists exhibited their works in this last gallery – no small challenge considering the rather restrictive dimensions of the place.
Facts like these – the number of artists who participate in an exhibition – are reliably documented by catalogues, but these also include other bits of information such as the time, place and date of the exhibition and the relationship among the works and texts displayed. Catalogues may be explicative, analytical or simply descriptive.
Some people do not see the need for putting together a catalogue when they undertake an artistic project. There are those who say it is pointless, because, after the exhibition is over, people tend to throw it away in some corner of the venue.
But the design, the texts and photographs that make up a catalogue condense a wealth of information that remains after the exhibition is over.
The entire conception behind an exposition can be summarized by a catalogue if its contents are adequately managed.
The issue of printing these catalogues is a different matter altogether. Institutions have next to no resources for this, such that artists and/or interested curators must become producers and appeal to the kindness of friends, embassies and the self-employed, to produce something more or less decent.
My arsenal of catalogues – and I use the word "arsenal" in its less literal sense – took long to put together. I had to attend the exhibitions on their opening days, for catalogues run out that very day, or I got them as gifts from friends or cultural institutions. I have also picked them up on the street, at patios and other such places – a veritable odyssey that makes me value my fortune all the more.