Cuban Acting Students Take on the Havana Stage
Yanelys Nuñez Leyva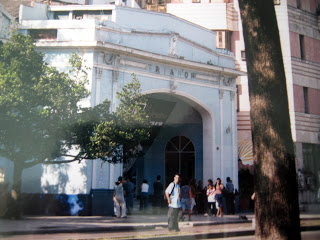 HAVANA TIMES — The stage of Havana's Trianon Theatre was recently taken up by acting students from Cuba's National Institute for the Arts (ENA), who performed the play The Cherry Tree Garden (El jardin de los cerezos) as a graduation project.
According to the e-zine Cubarte, for the first time in the "history of Cuba's acting academy", several other theatre companies opened their doors to students and offered them a venue where they could stage their graduation projects.
The initiave, which placed the students before a large and rather mixed audience and afforded them an opportunity to come into contact with renowned figures of the Cuban stage (such as Carlos Diaz, who directed the play), proved, in my view, a very rewarding experience.
The Cherry Tree Garden is a four-act comedy penned by renowned Russian author Anton Chekhov. The play follows the gradual impoverishment of a wealthy Russian family at the close of the 19th century.
The cast of students delivered the lines naturally and offered a highly skillful performance.
Though the thespians stuck to Chekhov's original text (written over one hundred years ago, in 1903), the play still managed to awaken powerful emotions and even move the audience thanks to the strength of the performance and the continued relevance of some of the lines, such as:
 "We've been mired in backwardness for at least two hundred years. We still have absolutely nothing, we don't have a clear idea of our past, we don't do anything except philosophize, bemoan our boredom or drink vodka."
Only one professional actor, the versatile Osvaldo Doimeadios (from the El Publico theatre company), joined the students on stage, playing a mysterious, inebriated passerby who (on a decision of those involved in the piece) had been dressed and made up to resemble Lenin.
The one thing we can criticize the play for is the fact no program – almost indispensable for an uncommon piece such as this one – was handed out to the public.
The young actors, however, more than made up for this oversight with an abundance of talent, presaging, perhaps, a rather promising future on the Cuban stage.