Debate on the Law in Cuba that Makes Independent Art a Crime
Yanelys Nunez Leyva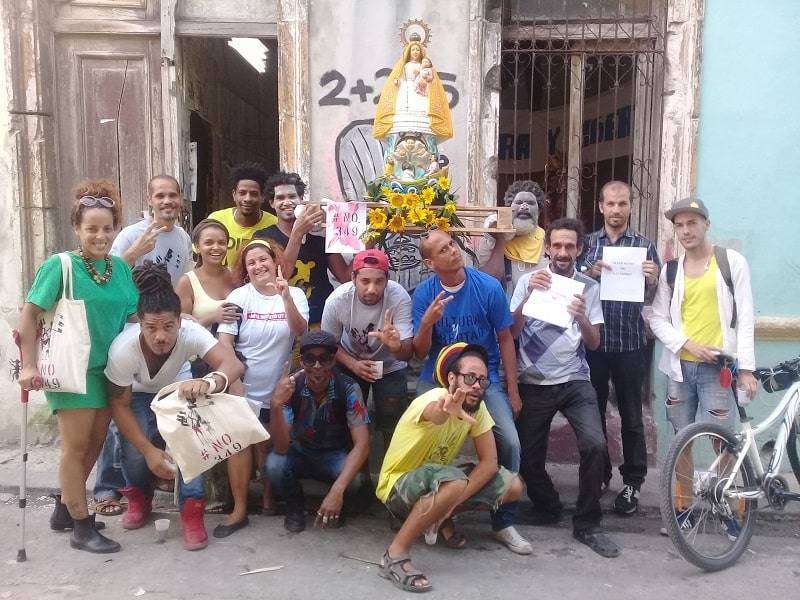 HAVANA TIMES – Several articles have been written about decree-law 349, both in favor and against. Today, I want to talk about an article which was written by Luis Dascal and published on the La Jiribilla website, which openly attacks the Cuban Artists' Campaign against the law that takes effect in December.
The author writes the word artist between quotation marks to refer to people who protest the decree (like they normally do in these kinds of denigrating texts), emphasising that "the low profile of those who are trying to organize this movement particularly stands out", accusing us of being neoliberal Capitalism's allies and, from the very first paragraph, it establishes the division between "those interested in art" and "those who are just interested, the incurable, who only think about their pockets."
It's "terrible" that whenever there is an opinion that disagrees with the government's, they link them to foreign funding, but it's understandable because demoralizing and denigrating these voices is the best way for them to not have any resonance.
According to his article, Luis Dascal seems to be an expert in cultural production in recent times, which is why I would like to know which projects or events meet the characteristics he describes as "simplistic formulas which lean towards the Right's trivialization, aggressive nature and ideologization."
I don't believe his depiction of modern times with simple, outdated and hollow descriptions makes his comment accurate in any way. It rather makes him an accomplice of a system which does use these "formulas" to keep entertained an entire population, who are immersed in shortages and a lack of information.
He also suggests that the campaign is aimed at boycotting the new draft Constitution and says that "it incites artists, a group of libertarian concerns." Can't a law, enacted without any prior dialogue, be refuted? Why are they holding all these draft Constitution discussion meetings with the people then? Is it just a spectacle to win over the international community?
If a law affects EVEN ONE citizen, this citizen then has every right to express their disagreement, complain and even protest with the tools they are aware of and have. This citizen doesn't have to be the most well-to-do or even the most involved in national politics, they don't have to be associated with any State institution, they don't have to share the government's hegemonic ideology to speak their minds if they feel affected.
Law 349 bothers us because we had been preparing an independent event for over seven months (the #00 Havana Biennial) with the government putting brutal pressure on us: confiscations, harassment, false accusations. And then, when we explained all of our uneasiness in an open letter* we wrote to state institutions, the only response we received was one of more censorship: Law 349.
And this law is no insignificant thing, it regulates "the hiring system of artists in both the private and public sector" like the author artlessly writes, and also serves to censor whoever isn't in the fold. This behavior isn't anything new, but now they are legalizing it.
In the late '80s, when they began to close down and censor exhibitions at state-run institutions, the first independent space to open its doors (in 1994) belonged to Sandra Ceballos and Ezequiel Suarez. Some of the most important visual artists have passed through this gallery (which La Jiribilla called illegal in another post), in recent years: Arturo Cuenca, Lisette Mataron, Ruben Torres Llorca, Raul Martinez, Samuel Feijoo, Jose A. Diaz Pelaez, Eduardo Ruben, Jose Franco, Humberto Pena, Zaida del Rio, Antonia Eiriz, Carlos R. Cardenas, Guido Llinas, Leandro Soto, Ruperto Jay Matamoros, Aladino Sanchez, Angel Alonso, Enrique Silvestre, Elio Rodriguez, Flavio Garciandia, Sandra Ramos, Aldo Menendez, Julio, Girona, Gustavo Perez Monzon, Antonio Eligio (Tonel), Osvaldo Yero, Jose Bedia, Kcho, Magdalena Campos, Rene Francisco, Eduardo Ponjuan… and the list goes on, as it is quite vast. Many people and artists themselves have been grateful for the existence and survival of these spaces which are now being threatened.
Dascal asks me what neoliberal capitalism did to artists to make them serve as alibis, according to him. He isn't talking about Cabrera Infante, Reynaldo Arenas, Virgilio Pinera, Lezama Lima, and so many others. He is interested in talking about "neoliberal capitalism" which I definitely do not serve in any way, and he prefers to not touch on artists who have been victims of ostracism and repression in Cuba after 1959. We would need to talk about everything and move away from the dangerous extremes that sully this debate.
It's true that in our protest in front Capitolio, I was the only one to smear myself in excrement, but it wasn't because I wanted to, but because Luis Manuel Otero was violently arrested and taken away just a few minutes before, when he hadn't even done anything. Videos on social media prove I'm right. Luis, Amaury Pacheco, Soandry del Rio, Iris Ruiz were arrested when they hadn't done ANYTHING, and they were sent to the Vivac prison. Have you ever been to the VIVAC?
They were arrested just because they THOUGHT about protesting [thought crime]. I still find myself asking what State Security's crazy plan was when they didn't arrest me or fine me in any way (although Dascal claims they did). Read my Facebook post, that explains what really happened.
So, four people, four artists being arrested when they hadn't done anything is no minor incident. This is repression, Mr. Dascal. This is called abuse of power.
I would like to know if you really exist and aren't one of the trolls that State Security place to boycott (using your own terms) any adverse comment or debate in political or cultural affairs on social media. Because if you are real, I invite you take part in an open DIALOGUE, without hiding behind a digital magazine. I invite you to share your fine opinions about decree-law 349 with all of "those interested in art and those who are just interested".
And not only you, I invite everyone you cite in your article. To: Lillitsy Hernandez Oliva, vice-president of the National Council of the Performing Arts and Alexis Triana, journalist and Head of Communications at the Ministry of Culture. However, I would also like to invite new Minister of Culture, Alpidio Alonso, and vice-minister Fernando Rojas. I would even invite every gallery director (if it weren't so much paperwork for national cultural institutions) to sit down with artists, not only the ones that are on their pay roll, but artists who are concerned and interested in this law and upcoming laws that the Ministry is thinking about putting forward.
Because we have to listen to each other, enough of "right of admission" or phrases like: "we don't talk to counter-revolutionaries". No, Mr. Dascal. We need a table we can all fit at. Where we are given an explanation as to why this Law 349 is important, and where you will hear artists' own experiences, the truth about many problems that have been propagated for too long in Cuba.
*On June 26th, organizers of the #00 Havana Biennial sent an open letter to the cultural institutions that denigrated this independent event and they still haven't received a response.
—–