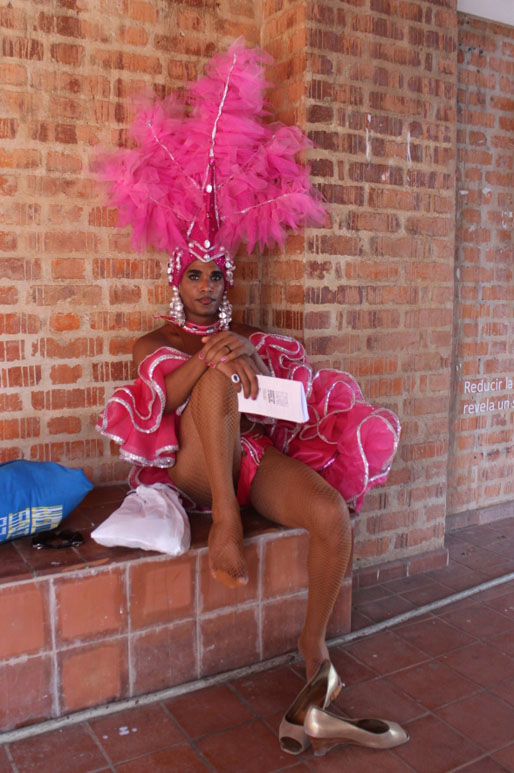 Yanelys Nuñez Leyva
HAVANA TIMES — "It's pink, and it's heading your way." That is how a friend described the experience of seeing Miss Biennial, a voluptuous "Tropicana dancer" that visited many of the exhibition spaces of the recently concluded 12th Havana Biennale, for the first time.
Wearing a thong, a feathered tail, high platforms, netting, a hat almost a meter high and sequins everywhere, artist Luis Manuel Otera Alcantara made his appearance as part of a performance titled Welcome to yumas (an independent project by Hors Pistes Primavera del Amor, curated by Catherine Sicot).
While viewing the art on display like a common spectator and making a proud appearance at all galas held at cultural centers, studios and galleries, he would also hand out his card with real information: telephone number, address, profession and the title of "Miss Biennial", which included a logo of the mega arts event, of which he was not officially a part.
I accompanied him on a number of occasions holding a camera (though pictures are not my forte), as it was very interesting to observe the reactions, attitudes and comments of the different kinds of public.
Every time he went out of his house and headed somewhere, he was half-dressed, wearing a blue, Chinese robe that hid the ballerina costume, and makeup. His interest was to make surprise appearances at art spaces. As he neared the venue, he would take off the robe in the middle of the street, before the inquisitive gazes of passersby.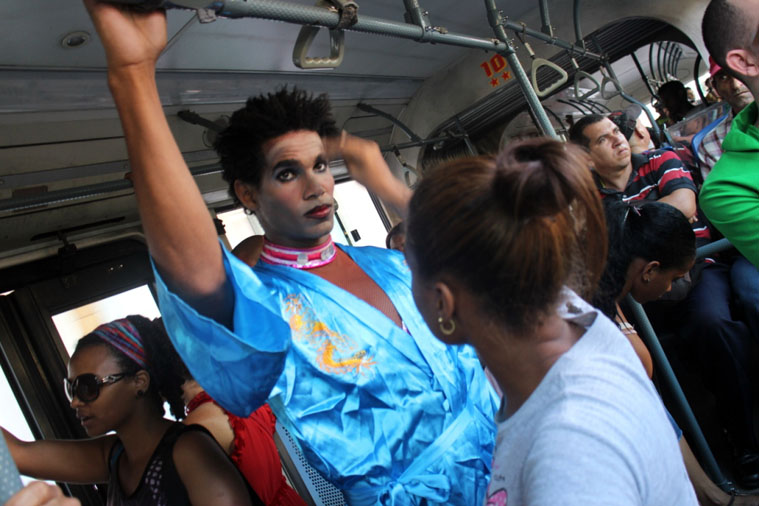 This first impression, though different than the performance per se, was also exotic, and, just like the ballerina, it prompted bouts of laughter, surprised faces, mockery, questions having to do with his profession and even the occasional insult.
Some children thought he was a clown, others called him a boxer, a circus performer and, among the adults, there were even some who said: "It's just a poor transvestite, trying to make a living."
A performance as intrusive as this one bothered some people in the arts world, to the point of wanting to bar him from entering certain institutions, for, in addition to being unaware of who the artist was and his background, the tall, exotic and rather shocking presence managed to steer people's gazes away from formal inaugurations.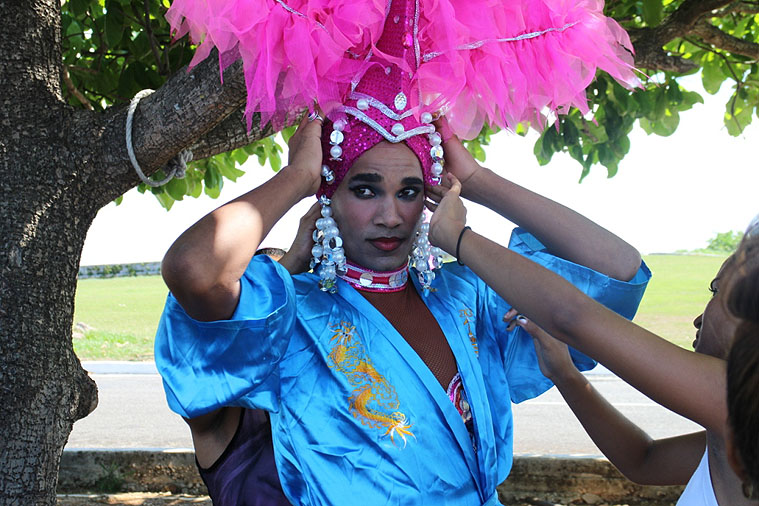 Many were expecting a big show from Miss Biennial, a wild dance, something that matched the character's carnivalesque and perturbing appearance.
Thus, when Alcantara explained that the performance consisted in this brief interaction, in provoking this sense of surprise, he met with wordless surprise, a moment of reflection or a wink of complicity, evident when people read his business card with the artist and Miss Biennial's info. What was the artist after with this piece?
Was it a criticism of the postures assumed by contemporary art managers in Cuba and abroad, in order to promote and sell art?
Did it seek to represent the Cuban of the future, the Cuban of the "age of cruisers", as academic Roberto Zurbano well described the coming days?
Was it simple mockery, a judgment passed on the Biennale as an arts event?
I don't know. Perhaps it was a bit of everything.
What proves rather transparent is the clairvoyance of the gesture with respect to the political changes that are taking place in Cuba.
Alcantara takes advantage of several realities, the freedom afforded by a discrete but growing tolerance towards homosexuality in Cuban society, the uncertainty surrounding social changes following December 17 of 2014 and the reality of the Biennial, with its discourse about liberalization and exchange.
Being itinerant, ambiguous, beautiful, and curious allowed Miss Biennial to appear before people without fear, playing all the time with power on his own field.