My Julieta Venegas Concert
Yanelys Nuñez Leyva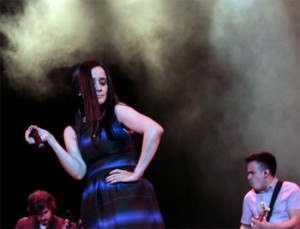 HAVANA TIMES — After the opening of the second part of the art exhibit "Sports: The Right of Art" (which I'll discuss another day), some friends and I ventured on over to the National Theatre for the Julieta Venegas concert.
The Mexican singer was in Cuba to support the initiative "Todas contracorriente" (Everyone Against the Current), which opposes violence against women and girls.
Although we didn't have any tickets to get in, nor much money to buy them from the scalpers (who are always there and always have them), we still headed to the theater because we had heard that the concert would be projected on a screen outside the theater for the overflowing crowd expected.
When we got there, we were surprised that there wasn't a large crowd waiting at the entrance, since activities like these always attract throngs of people.
I'm not saying the place was empty (proof of this was that we couldn't even remotely think about getting inside), but the turnout wasn't what I had imagined.
During the short time we stood there outside of the theater, we were approached by no less than five different scalpers offering to sell us tickets for 5 CUCs per person to see the Julietta live and a 1 CUC to watch her on the screen.
Yes, because to see the concert on the screen we would also have to pay.
Since the second option was the most affordable, some of us were naïve enough to accept it. Because of this innocence we had to pay dearly, since we soon found out that even in the box office they were selling tickets for the projection area at a more affordable price.
So how was the concert?
We enjoyed the show tremendously (although not with all the excitement one presupposes from seeing everything directly). One of the stars, Rochy Ameneiro, delighted us with her popular versions of Quisiera by Gerardo Alfonso and Tal vez by Juan Formell.
It was also a luxurious moment to also see the performance by Santiago Feliu, an artist with whom a significant part of the audience identified (this was something I noticed when listening to the euphoric exclamations that broke out every time he concluded one of his numbers).
Then came Julieta Venegas herself, with her "Limon y sal," with her delicate infant-like voice, and with her message of love and peace.
It was a good show, at least what I saw (I had to leave a little early to go home because the buses tend to disappear with the approach of midnight).
Nevertheless, I think it should have been held in an open space so that everyone interested in seeing her live could have enjoyed the performance.