Peaceful protest at Capitolio against Decree-Law 349
Yanelys Nunez Leyva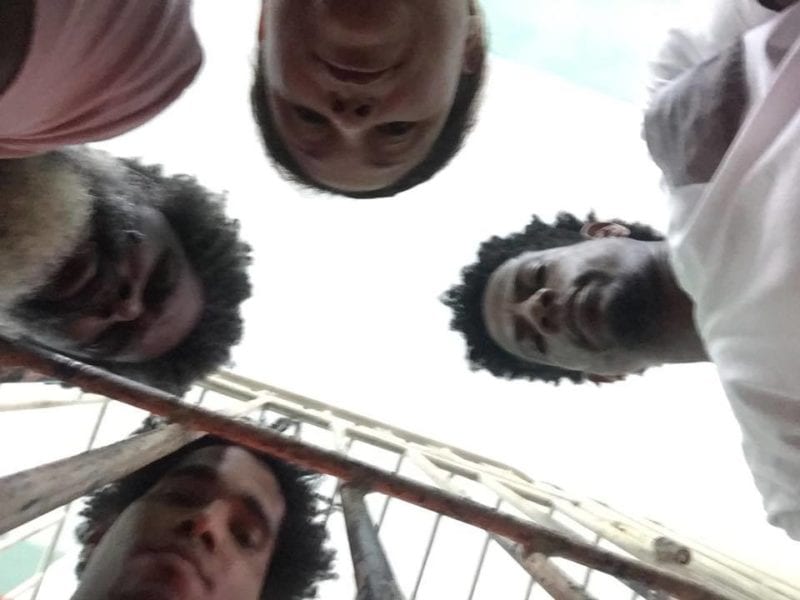 HAVANA TIMES — Amaury Pacheco's youngest daughter (only 6 years old) asks me: what is prison like? and I try to explain using dimensions without going into a lot of detail, hoping she loses interest:
"It's a small space, like where we are now."
Then, she goes on:
"And is the prison where my dad is beautiful?"
I have never been able to associate prison with anything beautiful. So I can't answer, I just smile at her tender innocence.
But, what if he is a prisoner because of a belief?
There must be some beauty in that.
Standing up to political indifference, abuses of power, a lack of understanding, ignorance and intolerance… sometimes only a dirty cell is your platform.
However, the people I will talk to you about today (myself included) weren't thinking about prison. We were rather thinking about what we were going to do, although we were aware that it might cost us a few hours in police detention or a long time in jail.
The subject of our protest: Decree-Law 349 which was signed on July 10th 2018 by the Council of Ministers and will come into effect in 150 days time.
What's our problem with this decree-law? It's simple.
Not only is it a negation of Cuban popular culture, which doesn't come out of an academy or is sponsored by any official institution. The great Benny More, Sindo Garay or Chano Pozo won't let me lie. It's also a negation of any chance of progress for Cuba's contemporary cultural production. And this is the case because this decree-law takes away our FREEDOM to create.
Each and every one of its articles is ambiguous which contemporary censors of thought will inevitably take advantage of. This Decree-Law (link: https://www.gacetaoficial.gob.cu/) is just another display of Cuban leaders' indolence, leaders who dismiss and go above dialogue as a premise for their government.
And we have asked to enter into a dialogue with state institutions! And it never seems to be the right time.
So, in the face of our desperation and impotence, we turned to the only space we have left, our bodies. Ariel Urquiola knows very well how powerful a body can be.
So, covering the body in shit seemed to be an attractive idea, fitting to Luis Manuel Otero. Cuban artists continue to be considered and treated like shit. This is the only metaphor here, loyal conceptualists. We are being treated like pure excrement which is being religiously soiled for a week in a small room.
But, Luis Manuel Otero, Amaury Pacheco, Iris Ruiz, Soandry del Rio and the person writing a little about all of this, couldn't have known (in spite of us adopting the most discreet working strategy – no telephones, no conversations with third parties who weren't involved because any precaution is too little) that State Security would persecute us and stop Luis and Amaury from turning themselves into fetid attractions, and that their timely arrests would prevent any information about this peaceful protest from hitting social media.
Public disorder
That's what Iris, Amaury, Soandry and Luis are being charged with. They were taken to the police station on Zanja and Dragones street on the first day. After 4 hours of being held together, Iris was released. According to Colonel Kenia, she did this because Iris had her 6 children waiting for her at home.
However, Amaury, Soandry and Luis will go to VIVAC!!! the Colonel said excitedly.
And hours went by and VIVAC became their cell before their (summary?) trial according to information we received from Security officials at this prison.
Then, at about 5 PM, Amaury showed up at home. He said that they let Soandry go too but Luis was still there. Maybe yes, maybe not. (what does that mean? Well, that we don't know what State Security might do to him).
Monday July 24th
I was told at VIVAC that Luis will stay in prison for another 5 or 6 days. I believe it's so he can reflect on his actions, which is a synonym for "change his mind" according to State Security. (The question is: change his mind about what?)
Forgive me for rambling, these are just a few notes while I think about what is going through Luis' head, through State Security officials' heads, through the heads of those who saw me taking Luis' place in the protest (out of pure intuition and stubborness).
A prison cell might be a cold place. But, it can also be a beautiful place in a little girl's mind.
[Luis was released later on Monday afternoon.]