Cuban Barrio Life: Men, Friends and Males
Yenisel Rodriguez Perez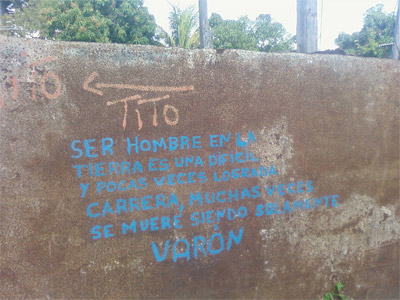 HAVANA TIMES, Feb 16 — Neighborhood life demands being a man and a friend. Being a man means confronting — face to face and with courage — the conflicts that persist in Cuban neighborhoods. It also consists of not revealing illegal business networks to government authorities.
To be a friend you need to build a reputation of trust in the community and to actively participate in neighborhood solidarity. A friend is someone who doesn't harm their neighbors; rather, it is someone who offers love and devotion.
Those who manage to be men can be kissed on the cheek. This is a way of showing a deep heterosexual identity. Being a man also allows one to ascend to positions of leadership in religious or fraternal associations in the community.
As a friend you can drink with other men, visit their homes and meet their spouses.
A man and a friend are therefore identities that summarize much of what is experienced in the daily life of our country – much of what is human and inhuman.
Consequently, it becomes crucial to achieve this dual identity to fit harmoniously into everyday life.
However there exist "suicidal" individuals who ignore this identity in its most orthodox version.
Some refuse to be men and friends, unable to achieve recognition in the neighborhood. Others, fewer still, consciously avoid these roles since they consider them authoritarian or homogenizing.
The latter are called "varones" (males), in the best cases, by the men and friends in the neighborhood.
A male is an incomplete man and a dubious friend in the eyes of other neighborhood residents.
These males, however, often succeed at demonstrating their social dignity beyond clichés and stereotypes.
Man, friend and male are identities that let one see how much domination and authoritarianism lie within us, the Cuban people.
Faced with this situation, there's plenty to discuss to consensually arrive at a neighborhood ethic that is truly liberating.